Estimated read time: 2-3 minutes
This archived news story is available only for your personal, non-commercial use. Information in the story may be outdated or superseded by additional information. Reading or replaying the story in its archived form does not constitute a republication of the story.
Alex Cabrero Reporting Police are searching the Bridal Veil Falls area because two teenagers came forward saying they took a bicycle from there that matches the description of Camille Cleverley's bike.
First and foremost, the two teens say they're extremely sorry for taking that bicycle. They never imagined it would be the biggest clue to this case. Now they just want everyone to know they didn't mean any harm and hope they proved it by going to police.
If a time machine is ever to be invented, Ben Marks, 19, and Patricia Madsen, 17, would probably be the first two people in line to buy one.
"You take a bike and you just think, it's just a bike. We thought it was abandoned, really," Madsen said.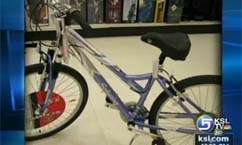 That bike, though, is believed to belong to Camille Cleverley, the missing BYU student. Marks and Madsen had no idea until they saw a description of it on television.
"It hit me pretty hard," Marks said. "I started crying and I just didn't know what to do."
Last Saturday night, the two were at Bridal Veil Falls and saw the bicycle. Sunday morning, they noticed it was still there and decided to take it.
Wednesday, when they realized it might be Cleverley's, they got scared and could've gotten rid of it, but they decided to do the right thing.
Madsen said, "There was no question in our mind that we needed to turn it in because we knew that was the biggest piece of evidence in her case."
Marks added, "We're sorry we took it."
Their families hired Salt Lake City attorney Catherine Cleveland to help them go to police, which they admit was the scariest, most difficult thing they've had to do in their lives. But they felt like they needed to get police going in the right direction.
Madsen said, "I mean, as scared as we were, there was just no doubt in our minds that we had to say something."
Hopefully that will lead police to something.
"We just pray she's all right, that they find her," Madsen said.
"Our prayers are with the family, and we're hoping to find her," Marks said.
Marks and Madsen also want their friends and family to know this isn't like them; they don't believe they're thieves. The two say they thought the bike was abandoned and took it.
It doesn't make it right, but because of their cooperation, their attorney doesn't think they will be charged with any crimes.
×
Most recent Utah stories