Estimated read time: 2-3 minutes
This archived news story is available only for your personal, non-commercial use. Information in the story may be outdated or superseded by additional information. Reading or replaying the story in its archived form does not constitute a republication of the story.
John Hollenhorst ReportingHelp is on the way for desperate ranchers.
Dozens of ranches in Central Utah are suffering the devastating consequences of drought and of the biggest wildfire in Utah history. Now folks in Northern Utah are pitching in to help.
Maybe you'll remember the calves with sore hooves, cows with burned noses and ears, battle scars from the day the Milford Flat fire burned right through the herd. But that fire also wiped out their food supply; it scorched a quarter-million acres of grazing land.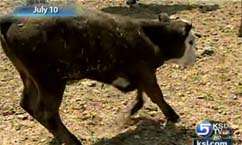 On top of that, many more cows face a feed shortage because drought hammered their rangeland. Now dozens of Central Utah ranchers are in deep trouble.
Way up north, rancher Joe Fuhriman wants to help. "If they have to sell off their herds it's going to take them years to rebuild. You can't just start a herd overnight."
He plans to donate a portion of his hay crop -- one ton of it -- and haul it to ranchers in Central Utah. He's recruiting fellow ranchers in Cache Valley to do likewise, even though this wasn't one of their best years, either.
"We've been extremely dry also," he said. "We haven't had any moisture since June, to speak of."
In some respects this crisis couldn't have come at a worse time. Right now hay prices are shooting through the roof. Current prices range up to $150 a ton. If Cache Valley ranchers donate a ton or two, it probably won't break them.
"We're shooting for 100 tons," Fuhriman said. "But I think we'll exceed that. I hope that we will exceed that."
But even that's a small drop in a big bucket; 38,000 tons is needed to bail out the desperate ranchers of Central Utah.
If you want to contribute hay, you can drop it off or have it picked up in Cache Valley on September 19 and 20. The drop-off locations are the Smithfield Livestock Auction and the U.S.U. Dairy in College Ward.
×
Related links
Most recent Utah stories