Estimated read time: 2-3 minutes
This archived news story is available only for your personal, non-commercial use. Information in the story may be outdated or superseded by additional information. Reading or replaying the story in its archived form does not constitute a republication of the story.
Keith McCord ReportingWith this long stretch of hot weather, we've noticed a lot of lemonade stands open for business. They're a good way for young people to make a few extra dollars.
But we found one today where all the money raised is going to the dogs! Actually, the money will help police K-9s.
We found a young lady who wanted to help a bloodhound that is one of the Salt Lake Police Department's most successful tracking dogs.
With each cup of lemonade filled today, a money jar filled up, too.
Megan Crowley said, "I'm here trying to raise money for the police K-9s."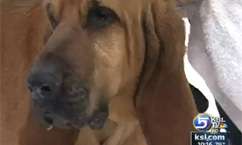 Megan was selling gallons of cool lemonade as a way of saying thanks to a bloodhound named J.J.
"We're trying to raise money because two years ago my little brother, Brandon, went missing, and they sent the bloodhound J.J. to go find him," Megan said.
J.J. is the oldest member of Salt Lake's K-9 unit. Since 1999 he has helped apprehend nearly 250 bad guys and located missing children. When Megan's little brother wandered off, J.J. wasted no time finding him.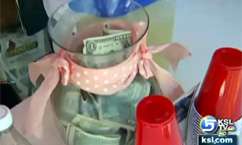 Last February J.J.'s owner, police officer Mike Serio, told us the dog had been undergoing a series of experimental and expensive cancer treatments. Through it all, the dog kept on working and is still at it.
Megan wanted to help raise money to help with J.J.'s vet bills, so she decided on the lemonade stand. Serio said J.J.'s treatment is finished, and the bills are taken care of, so the money Megan is raising will help other dogs.
Megan's mom, Angie McDougall, said, "Now officer Serio is trying to start a nonprofit organization to raise money for the dogs when they retire. They don't have any medical coverage."
Sunkist, the fruit company, provided the lemonade stand and matched the money that Megan raised today. An Albertsons store provided all the supplies.
×
Most recent Utah stories