Estimated read time: 3-4 minutes
This archived news story is available only for your personal, non-commercial use. Information in the story may be outdated or superseded by additional information. Reading or replaying the story in its archived form does not constitute a republication of the story.
DELTA —The search for missing West Valley mother Susan Cox Powell continued Tuesday in an area near Topaz Mountain in Juab County.
West Valley police announced Tuesday they had "a team of investigators," along with sheriff's deputies from Juab and Carbon counties, conducting an investigation in and around Topaz Mountain west of Nephi and northwest of Delta.
"The police called us this morning and told us they were going to be doing a fairly extensive search. They didn't say what they expected to find," Chuck Cox, Susan Powell's father, said Tuesday.
Cadaver dogs were also being used in Tuesday's search.
"Basically the information we have received during the investigation says there is a possibility we might find something out here," said West Valley Police Lt. Bill Merritt. "This is just simply that has been on our list for a long time. This is something that needs to be done."
---
The police called us this morning and told us they were going to be doing a fairly extensive search. They didn't say what they expected to find.
–Chuck Cox, Susan Powell's father
---
On Aug. 25, detectives from the West Valley Police Department with assistance from the Pierce County Sheriff's Office in Washington drove to Puyallup, Wash., to serve a search warrant on the home of husband Josh Powell and his father, Steven Powell.
Detectives insist nothing they recovered from the Powell's home lead them to Topaz Mountain. Rather, they say the area has been on their list for a long time as somewhere they wanted to search — and they want finish that search before winter weather arrives.
"We are not coming out here saying that we will, but we are hoping, fairly confident, there may be something of value out here," Merritt said. "We don't know for sure, we may leave empty-handed, but it's worth our time being out here."
On Aug. 19 and 20, a team of West Valley investigators searched abandoned mine shafts in the mountains outside of Ely, Nev.
There are several abandoned mines in and around Topaz Mountain.
Cox said he did not know if police were focusing Tuesday on abandoned mines as they did in Ely. But he said authorities were using a lot of manpower "to make sure they cleared that area," similar to what they did in Ely.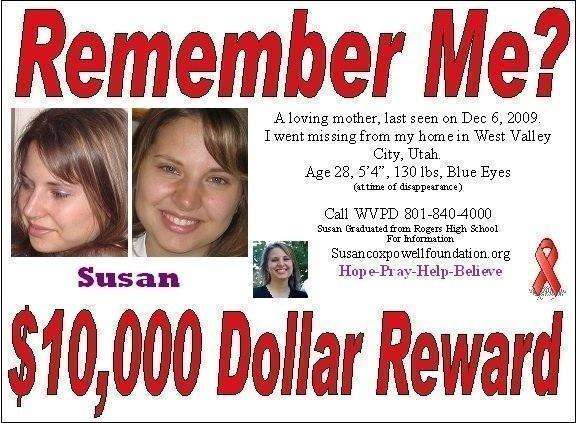 As for the use of cadaver dogs, Cox said he remains hopeful his daughter is alive but understands the reality of the situation. He said he only expects to hear an update from police if a significant find is made.
"We're happy the police are back to searching areas. We hope they're successful," he said.
Police have wrapped up their search for the day. They say they have a map and are doing a grid search in the area and will take a look at where they searched Tuesday, and then continue searching Wednesday morning.
The Topaz Mountain area is in the same general region as Simpson Springs — the place that Josh Powell told investigators he went camping that December night when his wife disappeared nearly two years ago.
Susan Cox Powell was last seen at her home on Dec. 6, 2009. Josh Powell remains the lone person of interest in the case because of his refusal to cooperate with authorities.
Powell says he took his two young sons camping early in the morning on Dec. 7, 2009, in a remote area of Tooele County during a snowstorm and temperatures that reached only the single digits. He said he returned home the next morning to find his wife gone.
Since her disappearance, Josh Powell has moved back to his hometown of Puyallup, Wash., and he and his father have become entangled in a bitter dispute with Chuck Cox.
Susan Cox Powell's parents are trying to prevent Steven Powell from publishing their daughter's childhood diaries. Josh Powell earlier filed a restraining order against Chuck Cox that included Cox's grandsons.
----
Written with contributions from Pat Reavy and Sam Penrod.
×
Photos
Related stories
Most recent Utah stories