This archived news story is available only for your personal, non-commercial use. Information in the story may be outdated or superseded by additional information. Reading or replaying the story in its archived form does not constitute a republication of the story.
SALT LAKE CITY -- Tickets go on sale next week for Utah's newest museum... or art gallery... or science center... or whatever it is. Even the people who run the place aren't sure exactly what label it should have.
It's called The Leonardo, but if you were expecting to see, say, the Mona Lisa or "The Last Supper," well, that's the other Leonardo, Leonardo DaVinci.
"He is our inspiration because he was an artist, sure," said Lisa Davis, spokeswoman for The Leonardo. "But he was also an inventor. He was an anatomist. He was an engineer."
DaVinci's multi-disciplinary scope is the driving principle behind the new facility and it explains why The Leonardo's centerpiece artwork is very difficult to categorize. The display, called "Hylozoic Ground," is not quite like anything seen in Utah before.
Workers and volunteers are currently installing The Leonardo's exhibits in the old Salt Lake City Library building in anticipation of the official opening Oct. 8. The city is leasing the building for 50 years to a non- profit foundation that runs The Leonardo. The total cost so far is $25 million, including $10 million dollars approved by voters for a seismic upgrade and modernization of the building. $15 million was raised from private donors, foundations and government grants.
The only artwork preserved from the building's library days is a stunning two story-high painting by Utah artist Doug Snow. The familiar escalators rising from the library lobby are also still in place.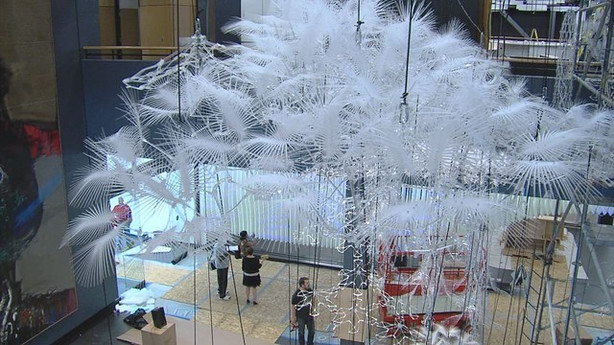 The Leonardo will emphasize interactive exhibits spanning the world of art, science and technology. But it will also have lectures, programs and other educational activities. There will even be a gene laboratory where participants will be able to trace their own genetic heritage.
The Leonardo, Davis said, "will introduce people to some really exciting cutting-edge technologies and science as well as art in a way they might not have experienced before."
The artist at center stage in The Leonardo is Phillip Beesley of Toronto, who's in Salt Lake this week supervising the setup of his enormous art installation valued at $750,000. He tends to call "Hylozoic Ground" an "environment" rather than a "sculpture," reflecting The Leonardo's multi-disciplinary concept.
Light as lace, "Hylozoic Ground" stretches three stories high. It dangles in the air, almost wrapping around the escalators and filling The Leonardo's atrium with feathery fronds. When fully functional next month, it will physically respond to visitors.
"When you walk through this environment," Beesley said, "there are arrays of space sensors all the way through which track your movement and know where you are. And they start breathing and rippling all through the environment and it has a kind of a presence which is nearly alive."
It also has flasks containing chemical processes that improve the environment. "One of the mechanisms is to absorb carbon dioxide, just like the way your own lungs would refresh yourself," Beesley said.
So exactly what is it? A sculpture or a science project?
"I think you could see this kind of an environment as, on one hand, art," Beesley said, "and on the other hand, quite serious science."
---
It's a really new kind of science center. It's a really new kind of art center. It's a new kind of education center. It's a place where people can come and engage their own potential, engage their own curiosity.
–Lisa Davis
---
That's why it fits in a museum that's not really a museum or an art gallery or a science education center. The Leonardo is all of the above and none of the above. According to spokeswoman Davis, "It's a really new kind of science center. It's a really new kind of art center. It's a new kind of education center. It's a place where people can come and engage their own potential, engage their own curiosity."
Is it a museum? "I guess that's the closest word," Davis said, "although I don't think people should expect to have a traditional museum experience here. We really are focusing on processes and experiences, helping visitors using tools from science, technology and art to help people explore creativity, curiosity, innovation in themselves and in other people."
Beesley's central artwork is intended to be a permanent feature of The Leonardo. It was previously exhibited in Asia and Europe but until now had not been displayed in the United States. It has a half-million separate parts, many of which interact with electronic sensors and tiny computers. The $750,000 price-tag for "Hydrozoic Ground" was covered by a grant to The Leonardo from the Salt Lake City Redevelopment Agency.
Davis brushed off the suggestion that preparations for The Leonardo stretching over several years have been too slow. "Something this new takes some time to really evolve," Davis said.
Even now, a month before its official opening, The Leonardo is mostly empty space. But in the next couple of weeks that will change. "All the exhibits are built," Davis said, "and we are just moving them in a piece at a time. We are absolutely going to be opening on the eighth. "There's no question about that."
Email: [hollenhorst@ksl.com](<mailto: hollenhorst@ksl.com>)
×
Photos
Related Links
Related Stories