This archived news story is available only for your personal, non-commercial use. Information in the story may be outdated or superseded by additional information. Reading or replaying the story in its archived form does not constitute a republication of the story.
JEREMY RANCH, Summit County — Eight African-American door-to-door salespeople found themselves in jail this week for soliciting without a license, while they say their white colleague went free.
The incident Tuesday involving Summit County sheriff's deputies has the five men and three women claiming racial discrimination.
"I felt like it was kind of biased for us to be arrested and her not to be for doing the same thing," said Detroit native Ryan Jackson, a 44-year-old salesman for Adavanage Diversified Products. The Illinois-based company dispatches its sales force around the country to sell organic cleaning products.
"They gave us the impression they were racist," said Mike Young, a 10-year veteran of the company who has sold in Jeremy Ranch before. "They treated us like criminals."
---
"They gave us the impression they were racist," said Mike Young, a 10-year veteran of the company who has sold in Jeremy Ranch before. "They treated us like criminals."
---
Each was handcuffed and taken to the Summit County Jail where they spent nine hours being booked, photographed and fingerprinted. Their boss paid $100 bail for each of them, but authorities kept their backpacks containing products and personal items including credit cards and drivers' licenses.
Kristin Riege, a 20-year-old white woman, said she had just finished a sale on Lower Saddleback Road when an officer in a black unmarked police truck pulled alongside her and flashed a badge.
"He said, 'Be careful out there. We have just arrested all of your co-workers,'" Riege said. "He never told me to stop working."
Summit County Sheriff Dave Edmunds said he has no knowledge of that happening.
"My deputies say they never contacted her, so that's news to me," he said. Edmunds said the deputies, all of whom were in uniform, looked for a ninth person for nearly three hours but didn't find her.
"All of the people that were in the area were rounded up and they were booked into the Summit County Jail. That's something that we normally do. That's standard operating procedure," he said.
Edmunds dismissed the notion that the arrests were racially motivated. "I think that's an outrageous claim," he said.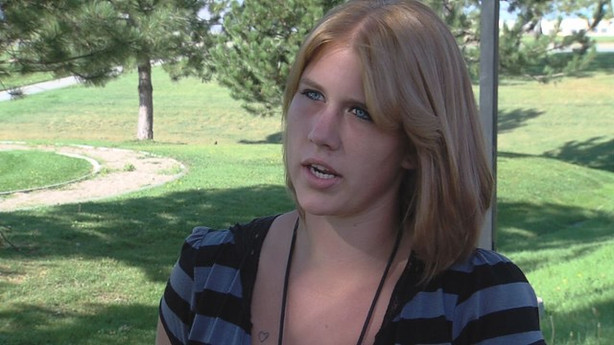 Deputies went to the neighborhood in response to a homeowner's complaint that a salesperson was "extremely aggressive and wouldn't take no for an answer," he said. Residents have had problems with pushy salespeople so the sheriff's office has a zero-tolerance stance for those who work without a county-issued business license.
"We have begun to book these people every time," Edmunds said, adding out-of-state salespeople typically ignore written citations. "It doesn't matter who they are. Race, color, creed, whatever. We book them all."
The eight people, mostly from the Midwest, were arrested for investigation of soliciting without a license, a class B misdemeanor punishable by six months in jail and a $5,000 fine. They admit the did not have licenses but said they didn't know they were required.
Earl Tanner, a Salt Lake attorney representing the salespeople, says it's obvious what happened.
"The first thing that slaps you in the face is racial discrimination. It just screams at you," he said.
Tanner also called arresting people for the "heinous" crime of soliciting without a license heavy-handed.
The best thing the county could do, he said, is drop the charges, return the salespeople's $100 and backpacks and give them for $5,000 for their time and expenses.
Despite Tuesday's arrest, the group continues to sell along the Wasatch Front. They're scheduled to travel to Minnesota on Sunday.
Email:dromboy@ksl.com
×
Photos
Related Stories