Estimated read time: 3-4 minutes
This archived news story is available only for your personal, non-commercial use. Information in the story may be outdated or superseded by additional information. Reading or replaying the story in its archived form does not constitute a republication of the story.
SALT LAKE CITY — Doctors have cauterized the heart of a 7-year-old Utah boy using a procedure that required no X-rays or radioactive scans.
Cael Bunker was the first heart patient to undergo the treatment in a new cath lab at Primary Children's Medical Center. He was suffering from Supraventricular tachycardia, a condition that caused his heart to beat rapidly - often 260 to 290 beats per minute. He'd been battling the condition since birth, even while he was still in his mother's womb.
But when KSL News visited him only hours after an out-patient procedure at the hospital, Cael's heart rhythm had returned to normal and he was getting ready to go home.
What is ... supraventricular tachycardia
Supraventricular tachycardia (SVT) means that from time to time your heart beats very fast for a reason other than exercise, high fever, or stress. ... During an episode of SVT, the heart's electrical system doesn't work right, causing the heart to beat very fast. The heart beats at least 100 beats per minute and may reach 300 beats per minute. After treatment or on its own, the heart usually returns to a normal rate of 60 to 100 beats a minute.
-WebMD.com
His mother, Angela Bunker, said, "There is part of me that thinks it's unbelievable, that we've lived with this his whole life and so it's kind of surreal."
The procedure, in which doctors snake a catheter up to the heart and cauterize tissue that's causing irregular electrical patterns, is not new. Even 3-D digital imaging used to map the heart has been around for more than a decade.
But on the day of Cael's surgery, doctors performed a different maneuver. They saw what needed to be done to Cael's heart without a fluoroscope, without X-ray. The tip of the catheter collected all the information they needed to see.
"We were essentially drawing the inside of the veins as we moved up to the heart, and then we were drawing the inside of the heart — the chambers and valves," explained Dr. Elizabeth Saarel, director of electrophysiology at Primary Children's Medical Center.
Reducing X-rays and scans is especially significant for pediatric patients since the cumulative build up of radiation increases the risk for cancer, like leukemia.
"The risk of cancer increases the more radiation you get," Saarel explained. "So if you start getting radiation when you are 7, and keep getting it at checkups or with X-rays or other procedures, you're going to have a higher risk when you're 50."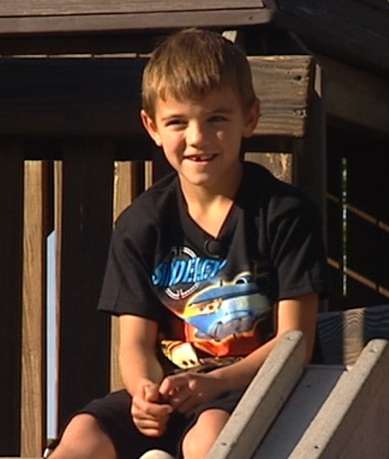 That's not to say scans for patients aren't necessary. They are when the benefit outweighs the risk of suffering severe complications from illness or injury because the physician does not get a clear picture of underlying problems.
But according to Saarel, doctors are looking for ways to minimize cumulative radiation exposure by exploring new techniques for imaging.
"The more radiation you get, the higher your risk. So it's not like you reach a certain level and then all of a sudden you're at risk," Saarel said. "Less is actually more in terms of radiation. That's what researchers are discovering -- even a little bit isn't good when it's not needed."
Meanwhile, at Discovery Park in Pleasant Grove, Cael can now run and play. He no longer needs mom to pull him from some activity because his heart is racing out of control.
Cael's dad, David Bunker, said, "My son has always been a very active boy. He's played T-ball, he swims; nothing slows him down."
And nothing will now because Cael is cured — and from a procedure that involved no radiation exposure.
Standing at the top of a slide and raising his arms, Cael exclaimed, "I feel Superriffic!"
Incidentally, Saarel and her colleagues are also exploring techniques to implant heart pacemakers and defibrillators without using X-ray imaging.
Email: eyeates@ksl.com
×
Most recent Utah stories