Estimated read time: 2-3 minutes
This archived news story is available only for your personal, non-commercial use. Information in the story may be outdated or superseded by additional information. Reading or replaying the story in its archived form does not constitute a republication of the story.
Ashley Hayes Reporting Something fishy is dropping into mountain lakes, courtesy of the Utah Division of Wildlife Resources.
The division is celebrating success with aerial planting of a fish that may not be familiar to some people: the Arctic grayling. This fish should add more sport and more variety fishing in Utah's mountain lakes.
To look at the Artic grayling one might think bait rather than big catch. But these fish, raised in the hatchery, are just starting out on a journey that sounds like a big fish of a tale.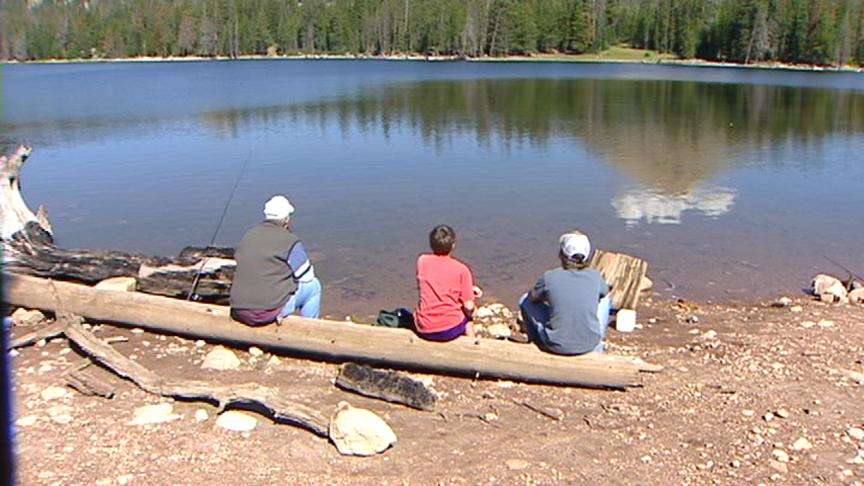 The graylings are about to go airborne and drop 150 feet from a plane into Lake Washington. "They have to be this small because as they fall through the air they flutter, and if they are too heavy, they fall too hard and pop their air sack," explained Ted Hallows, supervisor at the Kamas State Fish Hatchery.
Several anglers were able to see the plane come over and drop fish into the lake. But what those anglers may not realize is the fish raining down on them were the Arctic graylings.
The DWR has had so much success in raising them they've doubled their numbers and are expanding the number of lakes they stock throughout the Unitah, Boulder and Wasatch Mountains, meaning there will be more to reel in than the typical rainbow trout. "People aren't used to catching a grayling. It looks kind of like a whitefish with a big dorsal fin and pretty colors. But once they catch this unique fish, they're fun to catch. They fight better than a trout, and they're very interesting to watch. They have big eyes. They're hard to catch with flies, but they're fun," Hallows said.
Fun is what everyone on the lake is casting a line to catch. Admittedly though, it wouldn't be as good a time without stocking from the sky. "Oh, if they didn't, we wouldn't have anything to do. I think it's really important that they do," angler Pat Powell said.
Give these fish a few years, though, they've got a big tale to tell before they can grow into next season's big catch.
Hatchery officials are crediting Salt Lake's brine shrimp with the Arctic graylings' success in Utah. The Alaska fish seem to enjoy them as meals before they are airlifted into area lakes.
They also tolerate winter better than other Utah fish because they are able to tolerate low oxygen levels when the water freezes over.
×
Most recent Utah stories