This archived news story is available only for your personal, non-commercial use. Information in the story may be outdated or superseded by additional information. Reading or replaying the story in its archived form does not constitute a republication of the story.
OREM — Every week, two children in the United States are run over and killed in their own driveway. Two years after an Orem family experienced that tragedy, they are now choosing to turn the horrible accident into something positive.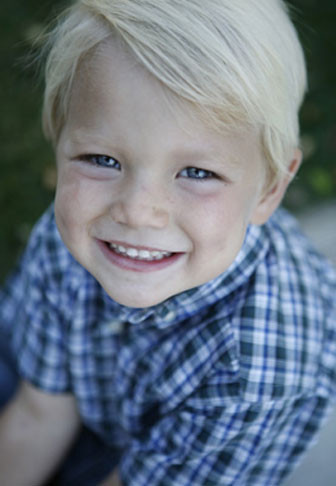 In July of 2009, 4-year-old Cooper Kofford died after being run over in the driveway of his own home. He had laid down on the warm pavement to dry off after playing in the water his friends.
"He was fast asleep; and so he died instantly," said Jana Lynn Kofford, Cooper's mother.
The intense grief the Kofford family felt slowly turned to understanding, and they made a promise to remember Cooper. So to mark the second anniversary of his death, runners recently hit the pavement and celebrated a little life gone too soon.
"He was the life of the party everywhere he went," said Quinn Kofford, Cooper's dad. "Immediately after his death, the silence in our home was deafening, and his footprint was very visible. (He was) just a wonderful, wonderful little boy."
Money raised from this year's event went to honor two emergency responders, who the Koffords say made their son's last day a little easier to bear.
Safety Tips
Emergency responders have a few reminders to help your family Stay Safe around vehicles:
First, walk completely around your car before starting it.
Account for all children in the area and have them sit or stand where they can be seen.
Roll down your window so you can hear outside your car.
Be especially cautious with vans, SUVs and trucks — about 80 percent of rollover deaths involve larger vehicles
"He carried out his job with love, respect, compassion and reverence. There's a few things we would change about that day, but there's a whole bunch we would not."
Members of the Orem police and fire departments took part to answer questions, provide a little relief from the heat, and remind all parents what can happen in the blink of an eye.
"It can happen to anybody, anytime, anyplace. The problem is we get caught up in the activity itself and we lose track of where the little ones are," said Mike Larsen, director of the Orem Department of Public Safety.
What do the Koffords want parents to remember?
"Be sure to express love to your children and love them every day," Jana Lynn said.
---
Written by Ashley Kewish with contributions from Nadine Wimmer.
×
Photos
Related Links