Estimated read time: 2-3 minutes
This archived news story is available only for your personal, non-commercial use. Information in the story may be outdated or superseded by additional information. Reading or replaying the story in its archived form does not constitute a republication of the story.
VIDEO and PHOTO GALLERY, click here(KSL News/AP) - The Key Bank Tower is no more. Early Saturday morning demo crews imploded the 20-story structure. It stood for nearly 30 years, but it came down in ten seconds.
The implosion took place at 6:37 a.m. It was early, but even that didn't stop hundreds of people from coming out to see for themselves what 20 stories of collapsing concrete looks and sounds like.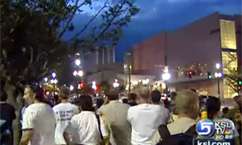 Ryan Lont and his friends came to downtown Salt Lake from Provo to see it. They made signs that said things like "Kaboom," and "Key Bank Rest in Peace."
Beginning at 6:37, the tower shifted slightly after the first round of explosives then toppled after a second blast. A huge cloud of dust spread over the area just after the implosion.
Spectator Sue Armitage said, "I was surprised how fast it went."
Darlene Taylor told us, "The most exciting part was the sound."
And Jim Fisher said, "I was shocked it was that big of a boom."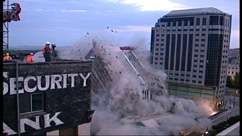 Dust from the implosion spread quickly throughout the northern part of downtown Salt Lake City. From above, you could barely see the tops of buildings. On the ground it looked like fresh snow. But crews began to clean it up.
The Key Bank Building was the first structure to be imploded in downtown Salt Lake City since the Old Newhouse Hotel 25 years ago.
Okland Construction's Dave Kasteler says it took months of preparation to get today's demolition down to a science. He says it's kind of like taking someone's knees out from under them.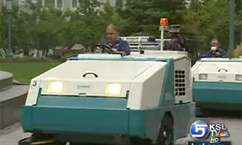 The building was imploded to clear space for a major downtown redevelopment.
Police closed off a nine-block area around the building hours before to keep onlookers a safe distance away.
The 20-story building was still structurally sound, but did not fit in with construction plans for the new City Creek Center.
Crews are expecting to have the debris from the building moved out in about a month and a half.
Once the space is completely clear, construction can begin on a plan that's been in the works for years.
Dale Bills, a spokesman for the City Creek Center, said, "We've got some residential towers coming. We've got a lot of retail centers coming, and that is something we're all going to be proud of. It's going to be a terrific asset to Salt Lake City."
The City Creek Center project is expected to be completed in 2011.
(The Associated Press contributed to this report)
×
Related links
Most recent Utah stories