Estimated read time: 2-3 minutes
This archived news story is available only for your personal, non-commercial use. Information in the story may be outdated or superseded by additional information. Reading or replaying the story in its archived form does not constitute a republication of the story.
Ashley Hayes Reporting Treating brain cancer without surgery is a concept once thought impossible, but at the Huntsman Cancer Center in Murray it is not only possible, but a reality. A new machine is removing tumors without patients ever feeling the cut of a scalpel.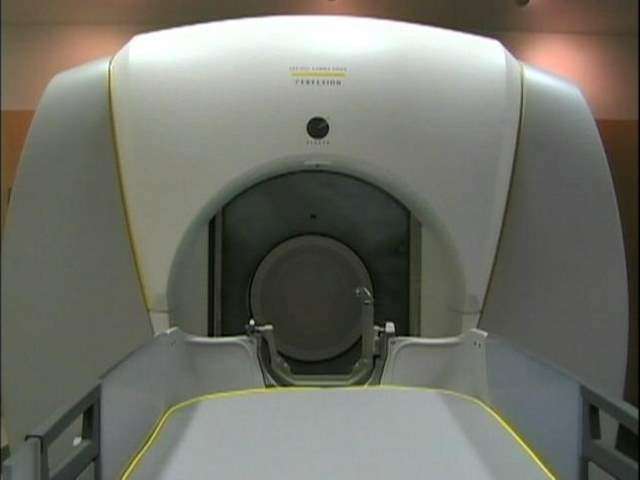 From the outside, the Gamma Knife Perfexion doesn't look much different from a traditional MRI; but inside, breakthrough technology is changing cancer patients' lives.
Dr. Mark Reichman, Director of Neuroscience for Intermountain Health Care says, "It gives us a new weapon in the treatment of a lot of malignant diseases of the brain and benign treatments."
Gordon Watson, Director of Radio Surgery said, "It provides a method of treating patients without having to do invasive surgery, without having to do a craniotomy to respect tumors or correct defects in the brain."
The 'Gamma Knife' destroys brain tumors without surgery. It focuses more than 192 radiation beams on the tumor and has a level of accuracy within 3/10 of a millimeter, the equivalent of a hair strand. And the best part: "They don't feel anything while this is going on. They don't see, smell, see anything while it's going on, and it's completely painless," Watson says. "Once that treatment is done the patient is brought out, the head frame is removed and the patient can go home that same day, and often times will return to work that next day," he adds.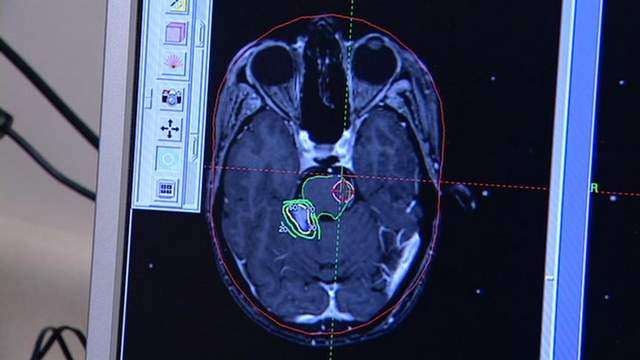 Looking at a picture of a patient's brain, doctors show how they can now remove an inoperable tumor, circled in green and yellow, which is dangerously close to the person's brain stem.
"We can tailor the dose of radiation to wrap around the tumor and yet deliver minimal or no dose to those critical structures that are within a millimeter or two of the tumor we are treating."
The Gamma Knife is not for every patient. Large tumors still require surgery, and older patients who have operable lesions may not be considered.
So while not for everyone, those adjectives "fast" and "painless", seemingly oxymorons to brain cancer, are now associated with its very treatment.
The Gamma Knife cost more than $4.5 million. The Huntsman Institute's model is one of two to three currently available in the country. There are fewer than six being used in world.
×
Most recent Utah stories