Estimated read time: 2-3 minutes
This archived news story is available only for your personal, non-commercial use. Information in the story may be outdated or superseded by additional information. Reading or replaying the story in its archived form does not constitute a republication of the story.
WEST VALLEY CITY — When a thief broke into a gym locker and stole Jordan Richardson's wallet and keys, he initially thought he could limit the damage.
But that theft turned into much more trouble than he ever imagined.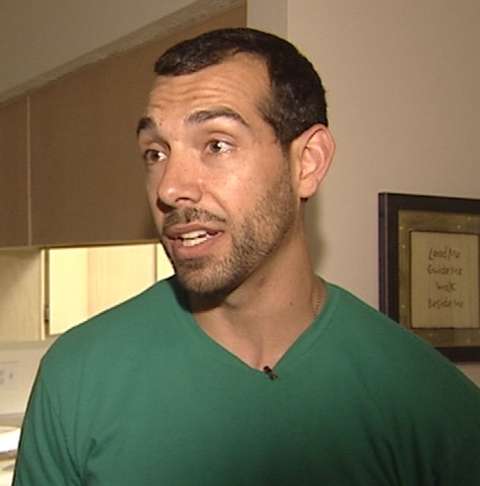 "They're getting away with small things," Richardon said "and it's getting worse and worse and worse; getting bigger and bigger. That's why I want something to be done on this."
On July 1, during his lunch break, Richardson locked his belongings in a West Valley Gold's Gym locker with his own combination lock and went for his workout.
When he came back to the locker, the lock was still closed. But Richardson opened it to find his keys wallet were gone.
Though the thief didn't steal his car that day, Richardson was in for a long, rough ride.
"I feel like a target," he said. "I feel violated."
Richardson contacted Mountain America Credit Union to flag his bank accounts. He changed his passwords, and canceled credit cards.
The thief got into Richardson's car later that night and swiped his GPS unit and some clothes.
"I went home and got new locks on my doors," Richardson said. "But the only thing I didn't do is put new locks on my car, because that was going to cost a lot of money."
Ten days later, the thieves came to his apartment in West Jordan and stole his Honda Civic. He's now driving a relative's car.
Several days after that, he checked his bank account and discovered $2,000 was gone, even though he had alerted the bank. Someone went through the Mountain America drive-thru July 8 and used Richardson's driver license to make the withdrawal.
---
I want peace of mind for myself and my children. Who knows what's going to happen next.
–Jordan Richardson
---
"I'm still puzzled how they were able to do such a thing, because I had a code word," Richardson said.
The bank tells him it will refund his $2,000, but he doesn't have it yet.
Without any suspect description, police closed the initial case on the gym theft. The case on the bank theft is pending.
Richardson's made multiple calls to police and wants them to do more. "Seems like I'm putting in a lot of work, and they don't seem to care what's going on," he said. "It's frustrating."
He's not even certain the damage is done. "I feel like they know something about me," he said, "maybe too much information."
"I want peace of mind for myself and my children," he added."Who knows what's going to happen next."
If someone steals your valuables, log on to www.idtheft.utah.gov, Utah's website for identity theft. It walks you through the steps to take to limit the damage quickly.
Email: jboal@ksl.com
×
Related links
Most recent Utah stories