This archived news story is available only for your personal, non-commercial use. Information in the story may be outdated or superseded by additional information. Reading or replaying the story in its archived form does not constitute a republication of the story.
SALT LAKE CITY — Kody Brown and his four wives filed a federal lawsuit Wednesday challenging Utah's law that criminalizes polygamy.
In filing the suit, the Browns' attorney Jonathan Turley said the family seeks to live according to its deep-seated religious beliefs and faith and not as "presumptive criminals."
"This family looks different that a lot of families in Utah. But it is their family, not your family," Turley said outside the U.S. District Courthouse.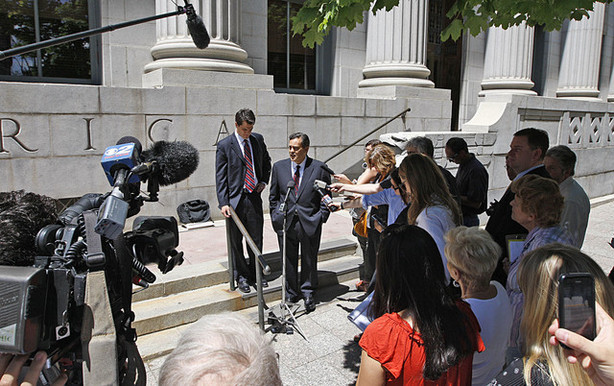 The lawsuit claims Utah's bigamy statute violates the Browns' constitutional rights to due process, equal protection, free exercise of religion, free speech and freedom of association. The law reads: "A person is guilty of bigamy when, knowing he has a husband or wife or knowing the other person has a husband or wife, the person purports to marry another person or cohabits with another person."
Utah County has threatened to prosecute the Browns since their television reality show "Sister Wives" debuted on TLC last September but has not filed charges. Brown moved his wives, Meri, Janelle, Christine and Robyn, and 16 children from Lehi to Nevada in January.
The Browns, members of the Salt Lake-based Apostolic United Brethren, expect to move back to Utah, according to the suit.
Email:dromboy@ksl.com
×
Photos
Related Links
Related Stories