This archived news story is available only for your personal, non-commercial use. Information in the story may be outdated or superseded by additional information. Reading or replaying the story in its archived form does not constitute a republication of the story.
SALT LAKE CITY — Members of a group created to examine the state's open records law approved their final recommendations Wednesday but couldn't agree on several issues, including whether text messages should be subject to disclosure.
Earlier this year, lawmakers passed and then repealed sweeping changes to the Government Records Access and Management Act after the media and the public rallied against the bill, HB477.
Gov. Gary Herbert and GOP leaders agreed to appoint a working group, made up of government, media and public representatives, including lawyers and technology experts, that has spent the past three months examining ways to improve the act, which is two decades old.
Their findings are nonbinding, but are expected to be considered by the 2012 Legislature.
Media attorney Jeff Hunt said the group found that an overhaul of GRAMA is not needed.
---
Utah Valley Regional Medical Center spokeswoman Janet Frank said text messages should be made public: "That is exactly how people are going to communicate. I just see this as a bigger problem in the future."
---
"If people expected a complete rewrite of GRAMA, I think that would have been a bad result," Hunt said. "Because frankly, we have a good statute. On the whole, it works pretty well."
Among the group's recommendations are making public records available for free online; establishing standard fees for determining which portions of private or protected records can be released; and creating a state ombudsman to help records requesters.
There was some disagreement over whether administrative and overhead costs should be included in the fees charged for fulfilling document requests.
"Government is about serving citizens," said Linda Peterson, editor of the Valley Journals and president of the Utah Foundation for Open Government. "It's not about turning a profit over covering costs."
But the fee formula recommended by the group is intended to cover all costs "rather than having taxpayers have to foot the bill," said the sponsor of HB477, Rep. John Dougall, R-American Fork.
There were areas where the group did not make a recommendation, including whether the law should be amended to include or exclude text messages and other newer forms of electronic communications.
Janet Frank, spokeswoman for the Utah Valley Regional Medical Center, said text messages should be made public. "That is exactly how people are going to communicate," Frank said. "I just see this as a bigger problem in the future."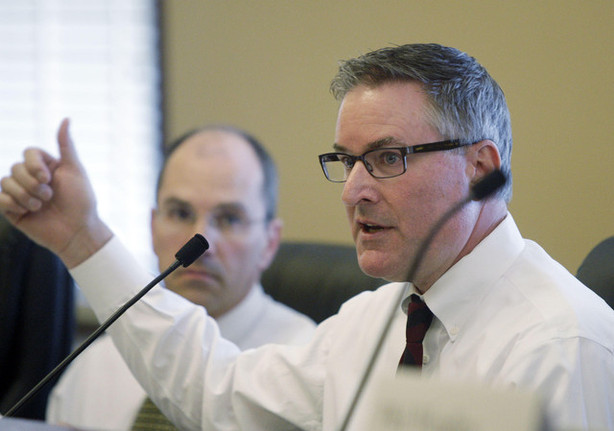 Rep. Curt Bramble, R-Provo, said many text messages aren't retrievable once they're sent. He said not calling for a change in the law shouldn't be seen as an attempt to protect text message but an acknowledgment "the status quo seems to work."
Rep. Holly Richardson, R-Pleasant Grove, said she doesn't believe a text message is a public record. "I think it's a conversation," she said, noting lawmakers serve part time. "We don't need to be miked or videoed 24/7."
Nor was there a recommendation on whether emails and other communications between lawmakers and constituents should be made off limits.
David Kirkham, an organizer of the tea party in Utah, said the public already believes their correspondence with lawmakers is private.
"I'm concerned about this," Kirkham said, noting it would affect all public officials, not just state lawmakers. "This is the heart right here, how are we going to decide this."
Rep. LaVar Christensen, R-Draper, made an appearance before the group to remind them the House had passed intent language explaining the concern over constituent emails before repealing HB477 in special session.
The House said there's a "current lack of sufficient express recognition and protection in statute for the reasonable privacy and confidentiality interests of individual citizens and constituents who … share their personal concerns and circumstances with their elected representatives."
Rep. Pat Jones, D-Holladay, questioned how much communication from constituents fell into that personal category. Most people would find her correspondence with the public uninteresting, she said.
Paul Edwards, Deseret News editorial page editor, said granting privileges to elected officials is not the "American way of doing business." He said the law should "err on the side of transparency so we create that trust in our civic institutions that Utahns deserve."
---
Story written with contributions from Lisa Riley Roche and Richard Piatt.
×
Photos
Related Links
Related Stories