Estimated read time: 3-4 minutes
This archived news story is available only for your personal, non-commercial use. Information in the story may be outdated or superseded by additional information. Reading or replaying the story in its archived form does not constitute a republication of the story.
Keith McCord ReportingManufacturers selling their products at this week's Outdoor Retailers Convention in Salt Lake are taking a bigger stand at protecting our environment.
Companies are now looking at the long-term effects of the products they make.
It only makes sense that companies that make outdoor recreation equipment would be concerned about protecting our lakes, campgrounds or hiking trails. Many companies have been environmentally-conscious for years. Others are getting on-board now, because, they say, it's the right thing to do.
How to increase business, but still be green. That's part of the challenge for manufacturers of the equipment that allows us to enjoy the outdoors. At this week's Outdoor Retailers Convention, the idea of creating and maintaining a sustainable environment was top of mind.
Frank Hugelmeyer, president of the Outdoor Industry Association, said, "We're looking very hard at our own business practices. How can we take our strong environmental values and our strong social values and ingrain them into our best business practices?"
Companies like Osprey, a backpack company from Colorado, is doing it. This year they have a new line of packs; 70 percent of each one is made of recycled materials.
Tom Barney is the CEO of the company. "They take these recycled bottles, clean them, grind them down into flakes and then re-weave the fiber, that become yarn, that then becomes fabric," he explained. "So in this case, everything you see, with the exception of the piping, has been recycled."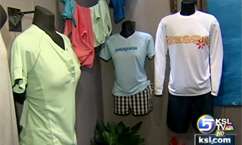 Patagonia has had an environmental program in effect for two decades. The exhibit booth at the show is made from reclaimed wood and metal.
The company also has a clothing recycling program -- you wear it, then give it back when you're done.
"Reconstitute it as new polyester, then it's incorporated into new garments," said Tim Rhone, a public relations represenative for Patagonia.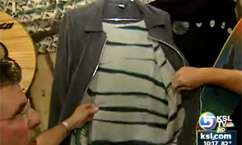 Robert Jungmann was the first exhibitor at this show to sell clothing made from hemp back in 1995. Now he uses other eco-friendly ingredients. A shirt has a lining made of bamboo.
"As the population increases and our water supplies get more stressed, we're going to have to look for more fabrics that aren't as water-intensive on our environment," he said.
Those are just three of many companies which look at the entire process of building a product, from design all the way to when the consumer is done with it.
Hugelmeyer said, "Does it just go into a landfill and become trash, or does it turn into next generation product? You have many companies large and small looking very seriously at how they can eliminate their personal footprint on the planet and take a real leadership role in this. It's very inspiring stuff."
The Salt Palace itself is also on board in this regard:
Salt Palace Show
100% Power from Wind Energy
All Trash Recycled
Badges Made of Recycled Paper and Soy Ink
Carpet Previously Used
One-hundred percent of the power at the show comes from wind energy. All trash was recycled, and name badges worn by all the exhibitors are made with recycled paper and soy ink. Even the carpet down the aisles were previously used.
×
Most recent Utah stories