Estimated read time: 3-4 minutes
This archived news story is available only for your personal, non-commercial use. Information in the story may be outdated or superseded by additional information. Reading or replaying the story in its archived form does not constitute a republication of the story.
OGDEN — In recognition of the changing face of the homeless in northern Utah, church officials, dignitaries and private donors Wednesday kicked off a $7 million capital campaign to build a new homeless center.
The new facility will be named Lantern House, representative of its goal to "light the way for those in need."
Lantern House will succeed St. Anne's Center, which has served Weber County's homeless population since 1981. The fundraising campaign is nearly halfway to its goal due to a $1.5 million contribution by The Church of Jesus Christ of Latter-day Saints; a $1 million challenge grant from the George S. & Dolores Dore' Eccles Foundation; as well as $75,000 from the Lawrence T. and Janet T. Dee Foundation and land valued at $500,000 from the city of Ogden. Other donors have provided more than $300,000 toward the effort.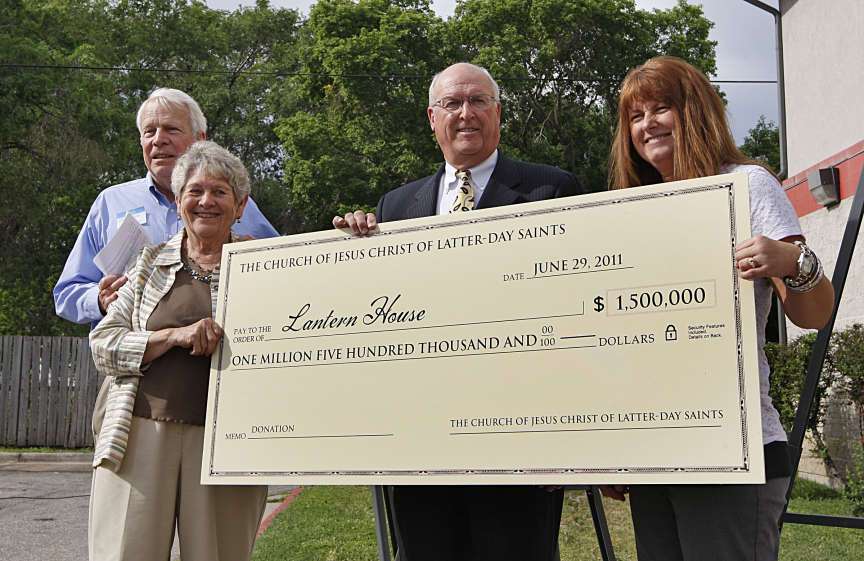 Officials said the existing facility, a 90-day temporary emergency shelter that houses more than 82 people a night and serves more than 52,000 meals a year, is inadequate to serve a growing population of homeless families.
"In 2009, we saw a 115 percent increase in families entering the homeless population. We have not been equipped to handle that population. Along with that came fathers with children. We were also not equipped to handle that population," said Weber County Commissioner Jan Zogmaister.
The new facility, according to Ogden Mayor Matthew Godfrey, will better support the practice of helping people return to self-sufficiency by providing housing, services and intensive case management.
"You don't just shelter people, but get them in permanent housing and get them established in a life," Godfrey said. "People can be rehabilitated and get their life back."
Godfrey said the new facility and mission will be made possible through partners representing religious communities, nonprofit agencies, government agencies and individual donors.
---
Our goal is to provide essential services. We need the help of the entire community.
–Kay Lipman, Lantern House fundraising
---
"I especially want to thank the LDS Church for stepping up early on with a major donation to help kick this off and make this happen. That has been instrumental in creating the excitement and momentum around this occurring," he said.
Godfrey, and campaign co-chairwoman Kay Lipman, each paid tribute to the original founders of St. Anne's Center: St. Joseph Catholic Church, Elim Lutheran Church and Good Shepherd Episcopal Church.
Lipman, and her husband Allan Lipman, retired chief executive officer of Amalgamated Sugar Company, said they looked forward to many more community and religious organizations partnering in the efforts of Lantern House.
"Our goal is to provide essential services. We need the help of the entire community, and you've shown some of that support today working together for the homeless in northern Utah," Kay Lipman said.
Community advocate Pamela Atkinson said it is particularly gratifying to meet a formerly homeless person or family that has returned to a life of self-sufficiency.
"One of my greatest joys in life is to have someone walking on the street hail me and say 'Hey, Pamela.' And it's someone I've known for years, who has gone through services such as St. Anne's has to offer, who has turned their life around because of the incredible case management. Now they have what they call a quality life and are contributing back to the community," Atkinson said.
For more information about the Lantern House capital campaign, go to www.StAnnesCenter.org
Email:mcortez@ksl.com
×
Photos
Related links
Most recent Utah stories