This archived news story is available only for your personal, non-commercial use. Information in the story may be outdated or superseded by additional information. Reading or replaying the story in its archived form does not constitute a republication of the story.
SALT LAKE CITY — Saturday, 9-year-old Carson Jones was taken to Primary Children's Medical Center in critical condition after being under water for about eight minutes.
Monday, Carson — with his blue mohawk, white T-shirt, brown shorts and green hospital socks — left the hospital and walked to his parents' car on his own power.
---
I have sore lungs but I've gotten over the pain, I'm feeling pretty good.
–Carson Jones
---
"I'm very glad to be alive," Carson said.
Carson looked like any typical 9-year-old boy, showing no ill effects from nearly drowning in Grantsville Reservoir. He was alert and thoughtful with his answers as he listened to questions from reporters.
"I have sore lungs but I've gotten over the pain," Carson said Monday in front of the hospital. "I'm feeling pretty good."
Over the past two months, eight people have drowned in Utah's rivers, reservoirs and swimming pools. There have also been several cases of near drownings in June alone.
Carson's story of survival and recovery, however, defied the odds.
He and his family went to the reservoir Saturday to roast marshmallows. While his parents were helping other children, Carson and a friend were walking along the rocks. They had only been at the reservoir for 10 minutes when Carson slipped and fell into the dark, frigid water.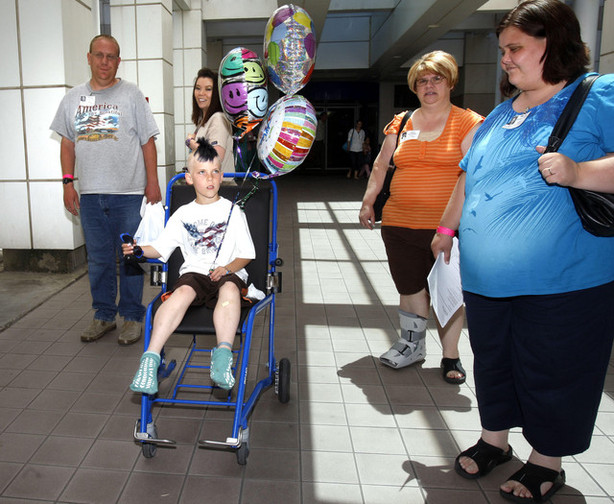 "All I remember is falling into the water and getting carried off," he said.
Jacob Jones, Carson's father who arrived after his son had gone under the water, said his son was able to tread water for a little bit. Carson had just learned to swim a couple of weeks earlier. The friend he was with was not a swimmer, he said.
The cold water, however, proved to be too much for Carson.
More than 20 nearby strangers went into the water to help the young boy. Adrien Baum eventually found him about 2 to 3 feet off shore and brought him to the surface.
Monday, both Carson and his father publicly thanked Baum and everyone who participated in the rescue.
"We really felt like it was a miracle he survived," Jones said.
Carson said he planned to meet Baum at his home in the coming days and personally thank him for saving his life. Carson also used the incident Monday to remind others to always wear a life jacket and have parents nearby.
It's a sentiment that Primary Children's pediatric emergency Dr. Laura Sells agreed with.
"Make certain their children are being observed around water at all times," was her advice for parents.
Although there are extremely rare cases of a child surviving being under the water for several minutes, most children are "unlikely to do well in the end," she said.
"It truly is the vast minority of cases," Sells said of Carson's tale of survival. "If there's anything we can do, it's on the prevention side."
Any amount of time a child is under water without oxygen can potentially cause serious damage, she said.
---
Written by Pat Reavy with contributions from Sam Penrod.
×
Photos
Related Stories