Estimated read time: 8-9 minutes
This archived news story is available only for your personal, non-commercial use. Information in the story may be outdated or superseded by additional information. Reading or replaying the story in its archived form does not constitute a republication of the story.
VIDEO: Mine Early Friday Morning Press Conference...Click Here to WatchUpdate
HUNTINGTON, Utah (AP) -- Rescuers drilled through to a pocket in the coal mine where six miners have been trapped, but heard no sound through a microphone that was lowered into the collapsed mine.
The mine's co-owner remained hopeful that the six men were still alive despite the silence.
"I wouldn't look at it as good or bad news. The work is not done," said Bob Murray, chairman of Murray Energy Corp.
They cut into the mine at 9:47 p.m., Murray said.
Mining officials were able to take an air reading from the pocket and said the air quality was good, with 20.5 percent oxygen, some carbon monoxide and no methane.
"That means if they're alive, they're going to stay alive in that atmosphere," Murray said during a news conference early Friday.
The 2 1/2-inch hole is a crucial passage for the first possible contact with the men since a collapse sealed them 1,500 feet below ground early Monday at the Crandall Canyon mine in central Utah.
A bigger drill boring a nearly 9-inch-wide hole -- wide enough to accommodate food and water -- was also moving toward the men's presumed location, but remained many hours from the target.
The six miners have not been heard from since early Monday morning when the mine was hit by an earthshaking collapse. It has not been determined whether they are alive.
Rob Moore, vice president of Murray Energy Corp., said that a motor broke on the larger drill during the day and was replaced.
With the small drill at the miners' depth, officials had said it would take two hours to withdraw the drill and lower a two-way communications device. A simple downward-pointing camera with limited visual range will also be lowered.
The larger hole will be used to lower a more powerful camera and could also deliver provisions to the men if they are alive.
(Copyright 2007 by The Associated Press. All Rights Reserved.)
Earlier:
A giant C-17 Air Force cargo jet touched down in Salt Lake City tonight, carrying tons of high-tech equipment and the latest hope to help free six miners trapped in a central Utah coal mine. The big plane belongs to the Mississippi Air National Guard.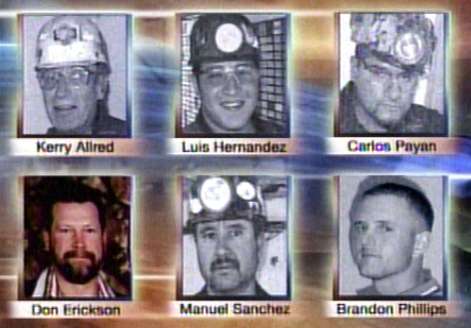 It delivered a vital piece of underground video equipment that could help locate the men trapped in the Crandall Canyon Mine in Emery County. The Substrata Camera system will be trucked to the mine and lowered into a drill hole leading to where the miners are believed to be.
The lens can be turned 360-degrees to give rescue crews a real-time idea of what they're dealing with.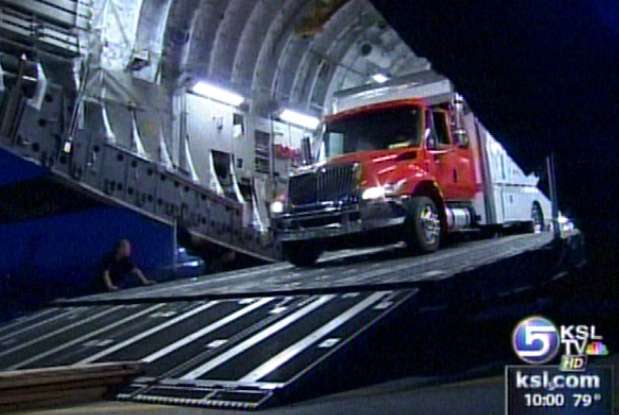 The truck is getting a Utah Highway patrol escort all the way to the minesite. It should arrive there at 1:00 or 2:00 this morning.
The last update we got is that as of six o clock, the drilling of the small hole going to the miners was about 140 feet away from the mine and going at 20 to 30 feet an hour. So it's likely not there yet, but by morning should reach the right area. It will then take a couple of hours before those on the surface can start listening for any signs of life.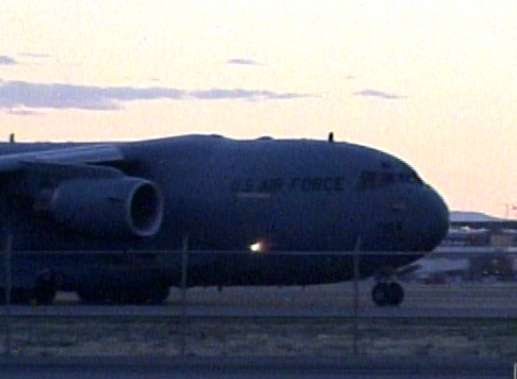 If they are successful in reaching the mine, the answer we've all been waiting for over the last four and a half days will only take a short time to get.
Richard Stickler, head of the Mine Safety and Health Administration, said, "The listening device provides a two-way communication. You can speak to someone underground and those underground can speak to those on the surface."
Equipment will also monitor oxygen and gas levels in the mine. A second drill, creating an eight inch hole, which would accommodate sending food and water to the miners until they can be rescued from the inside, is approaching the halfway mark to reaching the miners.
We have been told there won't be another press briefing until 10:00 in the morning, that is unless there are newsworthy developments, and we all certainly hope there is some news before then.
Kerry Allred, Don Erickson, Manuel Sanchez, Carlos Payan, Luiz Hernandez and Brandon Phillips have been in the mine since Monday morning.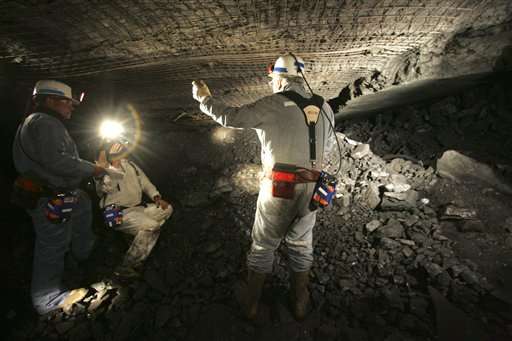 We still don't know a lot about the six men trapped more than a mile deep inside Crandall Canyon, but today we did get pictures of five of the six men who are the focus of this massive rescue effort.
Kerry Allred is a 58 years old, married with four children. His cousin Lee is also a miner and she says Kerry's been mining longer than she has and loves being a coal miner.
"I think all of them, working together will do ok, I hope so. Kerry has experience, yes, but it's different when you have coal miners trapped. Nobody knows what's actually going to happen," she said.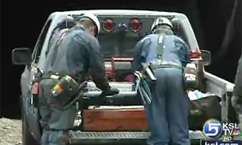 Don Erickson became a miner to have a better life and benefits. He used to work at Helper Auto as a store manager and wrecker driver.
Manuel Sanchez is 42 years old. He's the father of four and a grandfather. His brother says the waiting is tough. "I'm hoping but it's tough. It's a tough deal. They've [the rest of the family] got a lot of hope, they're strong. They're giving me a lot of hope it's rubbing off on me. I've got one string of hope and that's why I'm hanging in there."
Carlos Payan migrated to the United States from Sinaloa, Mexico with his cousin Luis Hernandez, who is also trapped inside the coal mine. Luis Hernandez has one-year-old daughter. Hernandez and Payan just started working at the mine early this summer.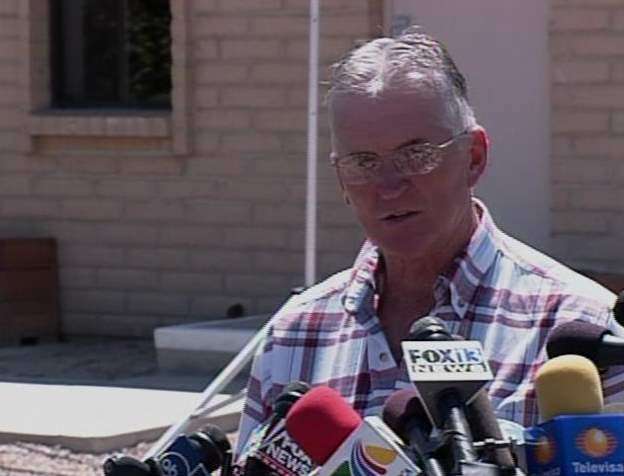 Brandon Phillips is 24 years old. He comes from a mining family. His uncle died in the Wilbur Mine fire. He's only worked at the Crandall Canyon Mine for three weeks so they don't have a picture of him.
Video showing the effort inside the mine was distributed to all news organizations today. KSL also talked with a reporter from Newsweek magazine who was inside as well. He says they drove in small pickup trucks, three and a quarter miles to where the debris begins. That's a distance of 2,000 feet from where the miners were working. That's where crews are trying to stabilize the mine, so they can begin removing the tons of coal that separate them from the missing miners. They are using chain link fence so they can have a safe tunnel to move forward.
While reporters were inside, there was a jolting moment, when they all experienced one of those mountain bumps, that's when there is a seismic shift inside the mine. The miners weren't bothered, but the journalists were shocked and terrified by it.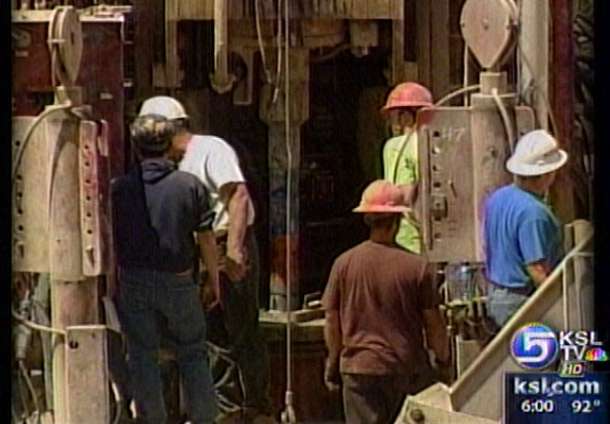 Jim Moscou, the Newsweek reporter we spoke with, said, "Let me tell you, the bump, never underestimate a mountain bump. You feel it in your bones, and you again, the CNN reporter looked at me and said, 'I can't think of a word for that.' And I'm a writer and I couldn't think of a word for that. It was a jarring thud that stops you in your tracks."
The reporter told us, after seeing the inside of the mine for himself, he is of the opinion the mine company president is giving a realistic assessment of what is going on underground and the intensity and effort give by the mine rescue teams.
Again we are waiting for any word from officials here about the success of the drilling. We will bring any news as soon as it happens, although it could still be a couple hours before we hear anything.
For the first time since the mine collapsed, a family member of one of the miners spoke out about how the family is holding up.
"They have their ups and downs," said Arch Allred, whose cousin is trapped in the mine. "They are on a roller coaster ride. The thoughts and prayers of everybody is what the family needs right now."
His family says Kerry Allred has been mining for at least 20 years. He has two sons and one daughter.
Two of the miners are parishoners at the Mission San Rafael Catholic Church in Huntington. This morning a prayer service was held for the men and their families.
This is the second church service to be held for the miners in the past 24 hours. Last night a service was held here in Salt Lake at the Cathedral of the Madeline.
Huntington mayor Hilary Gordon says today, the whole town is on edge and anxious to hear news soon. "There's kind of an upbeat feeling right now of expectancy. And probably not the least little bit is the anxiousness and the excitement that's going on," Gordon said.
She said on KSL's Doug Wright show, the governor has met with the families, offering help.
Anyone else who wants to help out those families of the miners or the town of Huntington can donate at any Zions Bank branch starting this afternoon. You can call 435-687-2425 for more information on how to donate.
(The Associated Press contributed to this report)
×
Photos
Related links
Most recent Utah stories