Estimated read time: 3-4 minutes
This archived news story is available only for your personal, non-commercial use. Information in the story may be outdated or superseded by additional information. Reading or replaying the story in its archived form does not constitute a republication of the story.
SALT LAKE CITY -- Utah Attorney General Mark Shurtleff announced Tuesday he's cancer free.
"Full body CT/PET scan results are in: I'M CANCER FREE! Sincere thanks to ALL for faith, prayers, love and support!" he said in a tweet just after 10 a.m.
On The Doug Wright Show, Shurtleff said he had a full scan last week and received the results just yesterday.
---
A big big part of recovery is the support you have around you, and we had it in boat loads, and I can't tell you how much we appreciate it.
–Mark Shurtleff
---
Shurtleff was diagnosed with Stage 3 colon cancer in late November of 2010 after doctors discovered a malignant growth when performing an emergency appendectomy.
"Until I actually sat down the doctor said, 'You have cancer and there's a 50-50 chance you're going to be alive in five years,' the first time I thought, 'Wow, I could die?'" Shurtleff told KSL via Skype Tuesday afternoon. "It's an awakening and it makes you reevaluate your life and your priorities."
He told KSL in December he considered the cancer "totally curable," saying, "I'm going to fight. I'm a fighter and I'm going to fight it hard."
Shurtleff underwent surgery to remove a portion of his colon just two weeks later and began a grueling chemotherapy regiment, but Shurtleff continued to work throughout his treatment.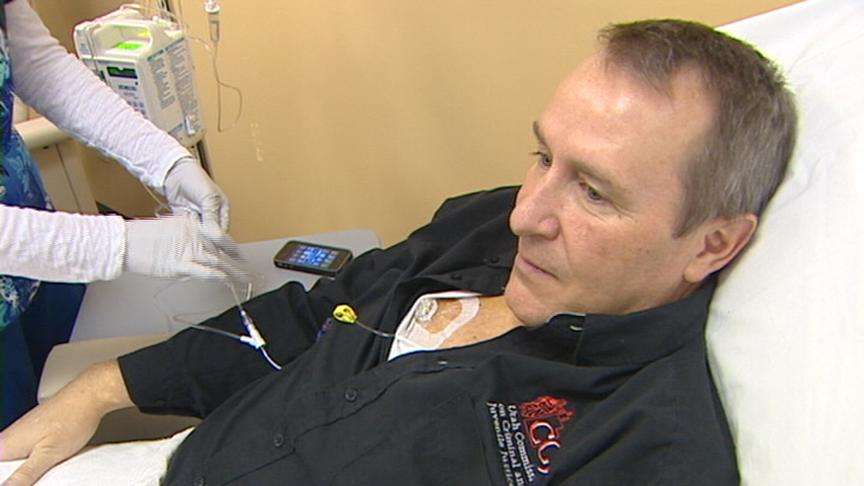 He was admitted to the hospital in early May, however, after having a bad reaction to the chemo.
Shurtleff told Doug Wright doctors halted the chemotherapy after that, stopping him about five treatments short of what was originally scheduled.
"Finally they said, 'The risks outweigh the benefits, let's stop and do the scan,'" he said.
The scan showed Shurtleff was cancer free.
Now, just six short months later, Shurtleff says the cancer is gone.
When Shurtleff received the call, "I hollered a little bit. I have to say danced around a little bit, then got on the phone with my wife and my mom and we cried together and celebrated a little bit that way," he said. "Then went downstairs and told my A.G. friends. They opened a bottle of champagne, a couple smoked cigars for me and I had my Perrier and lime and clinked my glass with theirs."
---
In every case, support and attitude are absolutely key. And we had that in spades.
–Mark Shurtleff
---
Doctors will continue to monitor him, but so far he has a clean bill of health.
"We'll do a follow-up in six months, another scan, and then in about a year and just, you know, keep checking on it," he said. "But for now, all the stuff I went through was worth it."
A happy Shurtleff thanked the many people who have been supportive during his ordeal, saying that the community support was a tremendous help to both him and his family.
"In every case, support and attitude are absolutely key. And we had that in spades," Shurtleff said. "We had an amazing support across all political, religious, cultural barriers. It was great. We felt it and are very grateful for that support."
Now that the chemotherapy has stopped, Shurtleff said his taste buds have come back as well as his energy.
"My wife says I have my swagger back," he joked.
As for his hair, which he has shaved since his treatment started so he is completely bald, per his wife's request Shurtleff said he's going to grow it back.
------
Story written with contributions from Pat Reavy and John Daley.
×
Related stories
Most recent Utah stories