This archived news story is available only for your personal, non-commercial use. Information in the story may be outdated or superseded by additional information. Reading or replaying the story in its archived form does not constitute a republication of the story.
MURRAY — The sight of a pelican with a broken wing has alarmed recreationists in recent weeks along the Jordan River in Murray.
For safety reasons, state wildlife officials have declined to rescue the big bird. As a result, a Murray resident may organize a rescue of his own. "We're already planning it, in fact, if we don't get help," Patrick Beamish said.
The bird is believed to be a male weighing 15 or 20 pounds. It appears to have a broken right wing and possible muscle injuries as well. It's living in the Jordan River, at approximately 6200 South not far from I-215, which is swollen with spring runoff and is running fast and cold.
The bird can flap both wings but appears unable to get airborne. On attempted takeoffs, it usually skims along the water for a few feet and then settles back into the river.
Many joggers, walkers and bicyclists have noticed him and worried about his ability to survive with an injured wing.
Beamish noticed the bird while bicycling more than two weeks ago and then started thinking about a rescue operation. "I became concerned and tried to find some type of an agency to help me," he said, "and just got one 'no' after another."
---
Our people are not crazy about risking their lives for a pelican with a broken wing.
–Scott Root, UDWR
---
The Utah Division of Wildlife Resources has declined to rescue the bird. Spokesman Scott Root said the river is too swift and dangerous.
"Our people are not crazy about risking their lives for a pelican with a broken wing," Root said, especially since the bird is likely to survive anyway. He said the bird still is able to dive for fish and should have a healthy supply of food in its current location.
Beamish admits the bird appears well-fed and relatively healthy, in spite of its injury. That assessment is shared by Chris Wall a board member and volunteer rehabilitator for the Wildlife Rehabilitation Center of Northern Utah.
"You know, he seems to be doing OK," Wall said. "He's by no means good, but he's not at the brink of death."
Wall and Beamish agree a pelican that can't fly is vulnerable to predators, like foxes and dogs, and to hypothermia from the cold water. Gesturing toward the bird's resting place, Beamish said "If he didn't have this little island out here to get up on, I don't think he could get out of the water."
In an ideal world, Wall said, the bird would be rescued. "Best case scenario, where we could pull him out of the water, it would be nice to be able to treat him. But he's OK for the time being until we can find a better option."
But Wall agrees a rescue would be tricky. "Yeah, I mean, there's no reason to cost someone their life over an animal," he said.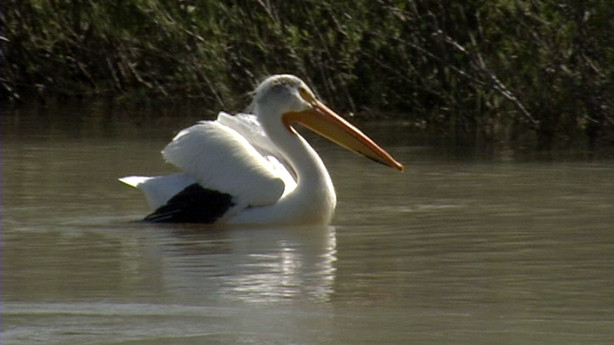 Beamish is not satisfied that enough is being done. He's willing to wait awhile for officials to act, but if they don't, he will. "Absolutely. I'm contemplating it right now," Beamish said.
Wall said it's generally not a good idea for non-experts to attempt a rescue of such a big bird. He said the difficulties of a rescue on the water as well as the bird's fear of humans, could cause the bird to be injured again, possible leading to the animal's death. "It's strictly not advisable," Wall said. "This is too dangerous" for amateur rescuers.
Beamish said he wouldn't attempt it without trained people and adequate supervision. "I'm not going to jump in here (the river) without safety gear and a wet suit and ropes and a bunch of other people to help me."
If someone captures the bird, it has a place to go. Wall said the Wildlife Rehabilitation Center of Northern Utah would be eager to treat its injuries.
According to Root, it's unlawful for anyone outside the Division of Wildlife Resources to capture the bird. And so far, the bird seems getting by without any help from its friends.
Email: hollenhorst@ksl.com
---
×
Photos
Related Links