Estimated read time: 4-5 minutes
This archived news story is available only for your personal, non-commercial use. Information in the story may be outdated or superseded by additional information. Reading or replaying the story in its archived form does not constitute a republication of the story.
SALT LAKE CITY — It started with just four forks and a plate.
Tuesday, that make-shift stage design created by U2 frontman Bono over dinner will appear inside Rice-Eccles Stadium. But rather than a few culinary items, the full-scale production will be 204 feet wide, 144 feet deep with a tower that stretches 193 feet in the air. The entire stage weighs 400 tons and requires 48 semi-trucks to transport it between cities.
"It's the largest touring production to ever been taken around the world," said longtime U2 tour manager Craig Evans, who noted it would be a long time before any band topped what U2 had done.
The numbers are incredible: 16 miles of production cable; a video screen that has 500,000 pixels and weighs 54 tons; about 130 touring crew members and 35 members of management; in addition to 1,500 roadies hired in each city for jobs such as stage hands and concessions.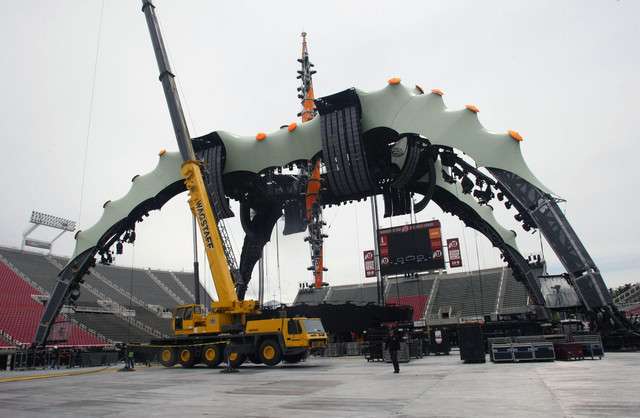 And all of that is multiplied by three. U2 has not one but three of those stages leap-frogging each other to cities around the world.
Tuesday, the U2 360 World Tour that was postponed a year ago due to emergency back surgery for Bono, will finally make its appearance in Salt Lake City.
"We're incredibly impressed everyone has been patient," Evans said during a media tour of the stage production Monday. "It was never an option to cancel."
U2 was originally scheduled to launch its North American tour in Salt Lake City. The band is now on the final leg of its North American tour and has played about 50 shows worldwide since Bono's surgery. The tour has already been certified the most successful of all time, in addition to being the most expensive.
Setting up the stage for the 360 tour is like setting up a small city. The stage — nicknamed "The Claw" because of its four large posts that support the structure — takes about four days to build.
A full day is needed to lay down the specialized flooring used to hold the stage and prevent the football field at Rice-Eccles from being torn up or crushed. It normally takes four days to build the steel prongs of the stage, but crews in Salt Lake were able to do it in 3 ½ even with the rain. It takes an additional day to set up the lights, sound and video.
---
"This is a great city to come to do a show. The challenge is to bring a tour like this to this city." Craig Evans, U2 tour manager
---
The idea behind the 360 Tour, Evans said, came from Bono, who at the end of the Vertigo Tour in Hawaii wanted to figure out a way to make the stage so big that it made the stadium they were playing in seem small, as opposed to the traditional large stadium-small stage approach.
The discussion was picked up over dinner one night and the rest, as they say, was history. The band had a very hands-on approach in the stage design.
Looking at the stage set up Monday, it was hard to find any bad seat in the stadium.
"All corners will have a complete view," Evans said.
Evans promises fans who attend the Salt Lake City show are in for an intimate performance. Even though between 45,000 to 50,000 fans are expected to attend, Rice-Eccles Stadium is the smallest venue on the band's entire tour.
"This is a great city to come to do a show," he said. "The challenge is to bring a tour like this to this city."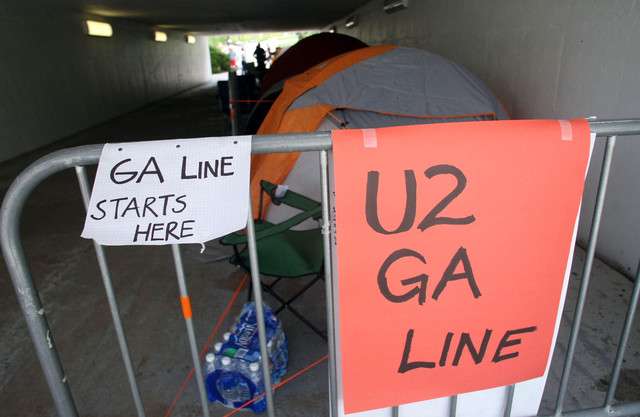 Asked whether it's better to have a seat close to the stage or high up in the bleachers, Evans said it was all a matter of preference. But everyone would have a great view.
"I hear from fans who sit up high and say they have the best picture. And then I hear from other fans who like to be close and have Bono sweat on them," Evans said. "It's nothing like watching TV."
The stage includes 345 feet of runway for the band to run around the stadium.
The line for general admission seating wasn't supposed to officially begin until 7 a.m. Tuesday. But fans started pitching tents near the stadium and creating their own lineup list at 10 a.m. Monday. Many of the first people in line had been to U2's last show in Denver and followed the band to Utah.
By 3 p.m., more than 90 people had already signed up to be on the GA list.
The next question is what does a band do with the three largest stages in the world when the tour is over? Evans said the band, which has always been very conscious about leaving carbon footprints, said talks were already underway on what to do with the stage and how it might be recycled when the tour was over. There was some talk about using parts of the stage to create small amphitheater stages in other cities, he said.
Asked how the U2 360 Tour compared to the band's last stadium show in Salt Lake, 1997's Popmart Tour, Evans said U2 today is a better band and the 360 Tour was a different show.
"This is U2 2011. This is the greatest U2 there ever has been."
Email:preavy@ksl.com
×
Photos
Related Links
Related Stories