Estimated read time: 2-3 minutes
This archived news story is available only for your personal, non-commercial use. Information in the story may be outdated or superseded by additional information. Reading or replaying the story in its archived form does not constitute a republication of the story.
Jed Boal Reporting This fall, Salt Lake City will soon start a transformation that some will say can never be done. For years, Pioneer Park built a bad reputation, but the city is almost ready to start making changes.
Pioneer Park is a beautiful 10 acres of open space near the heart of the city. It's also a hangout for the homeless and drug dealers. The city has a plan to make everyone feel more comfortable there.
The neighborhood around Pioneer Park flourished during the last decade, with new shops, more cars and people out walking.
Bill Cutting, a businessman in the neighborhood, says, "The park comes to life when there are people. It's that simple."
Lofts and condos attracted new downtown dwellers and more are on the way; yet, the park remains off limits to many who live there.
Lori Walker says, "It's nice having a place you can come to, but the homeless can be a distraction."
The Farmer's Market draws around 8,000 shoppers on Saturday mornings in the summer. Project manager Dell Cook says, "We would like to bring that kind of a feeling 12 months a year, so it is welcoming to everyone."
That's what community stakeholders said they wanted when they met with project manager Dell Cook -- a new path, more trees, plaza entries at the northern corners, electrical upgrades for the farmer's market and irrigation improvements.
To the skeptics Cook says, "I would say we have to try something and move forward with the best initiatives we can come up with."
Tony Caputo opened his business in the area nine years ago and thinks a dog park is the key to cleaning up the park. "It's something that creates traffic, and that's always good. Bad guys don't like people watching them," he says.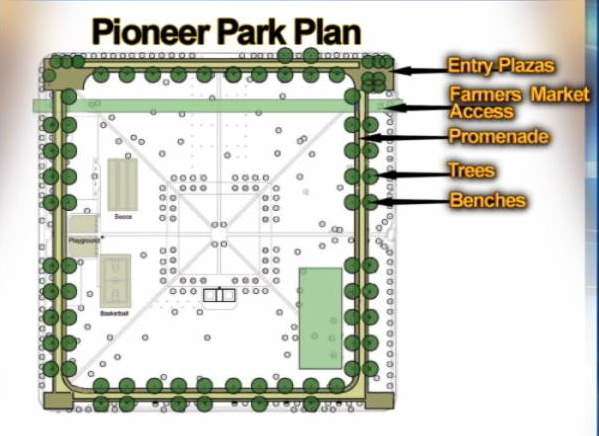 The fenced dog park is part of phase one and a high priority but is not currently funded. The Historic Landmark Commission must approve phase one in a meeting tomorrow, but the city is ready to move ahead this fall with $1.4 million for phase one.
×
Most recent Utah stories