Estimated read time: 2-3 minutes
This archived news story is available only for your personal, non-commercial use. Information in the story may be outdated or superseded by additional information. Reading or replaying the story in its archived form does not constitute a republication of the story.
PARK CITY — The owner of a Park City-based computer business has been arrested for allegedly placing a video camera in the women's public restroom of a complex that houses several businesses.
Now, investigators are asking any businesses that may have had work recently performed by Aventa Computer Systems to contact them.
Jimmy Knue Ngo, 41, of Salt Lake City, was arrested Tuesday night after an employee of a nearby store found a small digital camera in a restroom in the complex.
"A ceiling tile was moved a little bit. The employee inspected closer and found a camera," said Summit County Sheriff Dave Edmunds.
The camera was only the size of a flash drive and could be easily hidden almost anywhere in a restroom. It had enough memory to record for one hour at a time.
What detectives found recorded on the camera was disturbing. Looking through the camera, investigators found numerous files and several unidentified victims. Some of the images were of the same restroom but from different angles.
But other images were of different restrooms that police had not been able to identify as of Thursday, Edmunds said.
Several women were recorded by the camera, he said. Detectives believe Ngo planned to return to the restroom the next day, pick up the camera, and download the video file to his computer. They believe he had been doing this for at least a couple of months.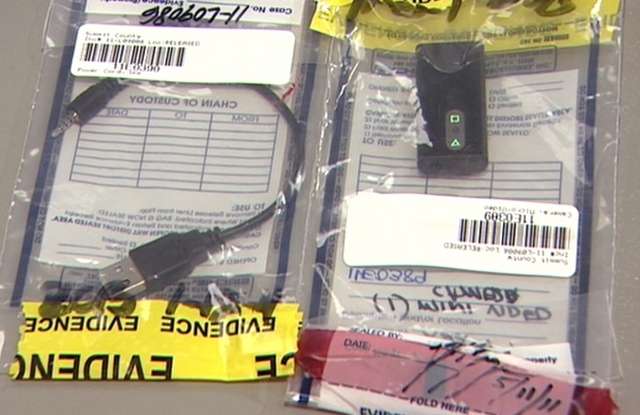 "It's as depraved and disgusting as it sounds," Edmunds said. "No one should have to be victimized by this."
Elizabeth McLain works in the business complex and recently used the bathroom — one of three in the building. Now she's wondering if she's on that video.
"That's private to me. It's the restroom," she said. That's even worse than when my car got broken into last year. It's even worse than that."
Anyone who used that restroom in the past couple of weeks should call the Summit County Sheriff's Office at 435-615-3600.
Ngo, from Salt Lake City, is the owner of Aventa and was recently working on computer equipment in the building, according to the sheriff's office. He was arrested and booked into the Summit County Jail for investigation of voyeurism and disorderly conduct.
A search warrant was served on Ngo's vehicle Thursday. At least one computer had been seized and would be searched later, Edmunds said.
The sheriff said the case is a good reminder for everyone to be vigilant in public restrooms.
Contributing: Sandra Yi
Email:preavy@ksl.com
×
Most recent Utah stories