Estimated read time: 1-2 minutes
This archived news story is available only for your personal, non-commercial use. Information in the story may be outdated or superseded by additional information. Reading or replaying the story in its archived form does not constitute a republication of the story.
KEARNS -- A Kearns High School student is starting to get national recognition for her book about growing up with family members addicted to drugs.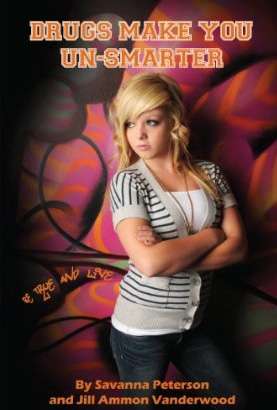 Savannah Peterson wrote "Drugs Make You Un-Smarter." She says she wants other teens to know they don't have to give in.
Peterson's dad has been in and out of jail for drugs. Family friends did drugs around her when she was 9 or 10 years old. Once, she found a syringe in her bathroom.
"I saw people be successful and then go to nothing in like two months," she said.
She says writing "Drugs Make You Un-Smarter" lifted a weight off of her.
"I just want to be heard," she said.
Savannah spoke in between classes at Kearns High School with her grandmother, Jill Vanderwood, who co-authored the book.
"I told her if she was serious, I would stop everything and help her write it," said Vanderwood. They interviewed doctors, professionals and patients. Writing the book took about a year and a half.
Savannah will go on tour this summer to speak to clubs, camps and year-round classes. She wants kids to know they have a choice.
"You don't have to do it. No is an answer," she said.
The book is available through Amazon and Barnes and Noble.
E-mail: mrichards@ksl.com
×
Most recent Utah stories