Estimated read time: 5-6 minutes
This archived news story is available only for your personal, non-commercial use. Information in the story may be outdated or superseded by additional information. Reading or replaying the story in its archived form does not constitute a republication of the story.
DRAPER — It rained long and hard the day Debra Brown walked out of prison after spending 17 years behind bars, but it didn't matter.
"I'm the luckiest person on earth right now," she said. "It's the most beautiful day to me I've ever seen."
From the time Brown stepped out into the wet afternoon Monday, there were spots of light. The sun shone through for a moment as she drove away from the Utah State Prison. There was a bouquet of bright yellow balloons. More than anything, though, there was the glow emanating from the woman finally allowed to hold her children in her arms, able to clutch her grandchildren to her chest.
"I almost don't feel worthy to be in her presence," Brown's son, Ryan Buttars said. "She's an angel to the world right now."
Brown's release
Saying "I don't think there's a word" to describe how she feels, Debra Brown walked out of prison a free woman exactly one week after a judge determined she was factually innocent of the murder that led to her incarceration.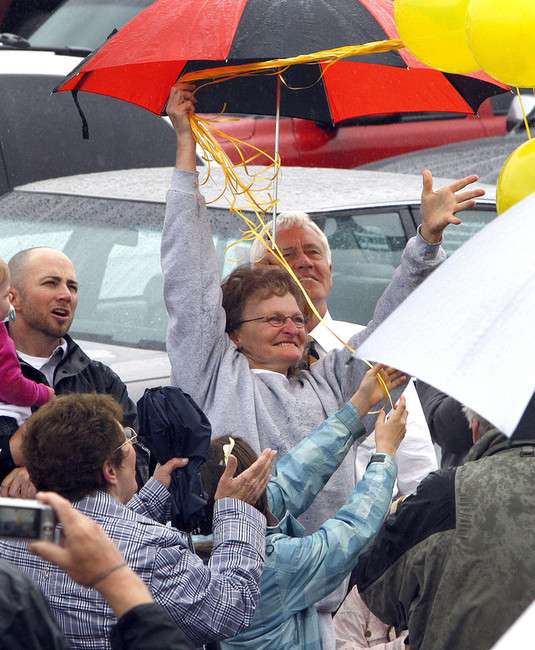 A makeshift red carpet — lined with Debra Brown's children and grandchildren and leading to a shiny new bicycle — awaited Brown as she stepped out of a black SUV to a roar of cheers.
She cried as she embraced her children and looked around exclaiming "Hi!" and "You came!" as she noticed every face. When she finally saw the bike she once dreamed of, she gasped and promptly honked the horn affixed to its handlebars.
"We've seen a miracle and we're just excited and happy for her," brother David Scott said. "It's indescribable."
Scott said Monday was a "remarkable day" for Brown and her family. He said there's no real plan for what Brown will do next, though he said they've planned enough parties they could spend "50 years partying."
The joyous reunion came after 2nd District Judge Michael DiReda determined Brown — who has been imprisoned since 1995 when she was convicted of murder in connection with the 1993 shooting of Lael Brown, 72 — was innocent following an extensive hearing on evidence in the case. Her boss and friend was found dead in his home with three gunshot wounds to the head.
Monday afternoon, DiReda signed the order releasing Brown from the Utah State Prison and also signed an order to have Brown's conviction expunged from her record. In addition, he ordered the state to pay Brown $570,780 in financial assistance. The first payment was ordered to be $114,156.
Brown said Monday that it wasn't about the money, but her family. She said no amount of money can replace what she lost.
"You don't get it back," she said. "There's been no way to get it back. But I have everything I need."
AG doesn't plan to appeal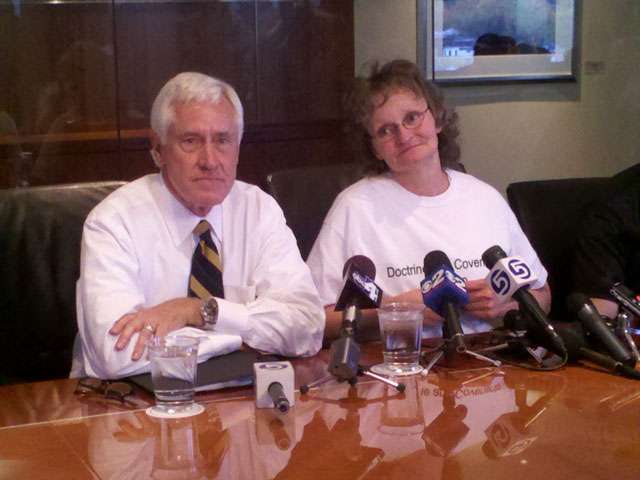 For a while Monday, those payments were on hold because the state filed notice that it intended to file an appeal to DiReda's ruling that found Brown factually innocent. "A formal notice of appeal should be filed within 30 days of the court's ruling," assistant attorney general Scott Reed announced in a prepared statement.
Yet nine hours later, Utah Attorney General Mark Shurtleff sent a message over his Twitter feed that contradicted Reed. In response to a Twitter plea asking him not to appeal Brown's case, he wrote, "We won't appeal."
Later, his spokesman confirmed that "Mark Shurtleff has made the final decision and no appeal will be made in the Debra Brown case."
The Rocky Mountain Innocence Project had released a statement earlier Monday saying it was disappointed in the A.G.'s initial decision to appeal. "The system failed Deb and, by doing so, sent an innocent person to prison for 17 years. An appeal is a continuation of the injustice already committed on Ms. Brown, her family and the citizens of Utah."
What's next for Brown
Brown, who found the LDS faith during her time in prison, said her short-term goals are simple. "I'm gonna go fishing. I'm gonna get baptized, and a year from that I can go through the temple."
She said views of the LDS temple in Draper from prison served as "an ensign" to her and that was the place she really wanted to go once released. Brown and members of her family also wore T-shirts printed with an LDS scriptures relating to time church founder Joseph Smith spent as a prisoner in a Missouri jail.
"We all stand in amazement of who my mother is and who she has become," Buttars said. "That scripture is about being falsely imprisoned, but every experience we have is for our good. All of us have been amazed at the transformation she's had."
---
Everything that comes at you in life comes with a lesson for you to learn; and while I wouldn't want to repeat this stint I just did, I wouldn't change it. It's made me who I am.
–Debra Brown
---
Brown said it was her faith, her family and her "dream team" of attorneys that saw her through.
"Everything that comes at you in life comes with a lesson for you to learn and while I wouldn't want to repeat this stint I just did, I wouldn't change it," she said. "It's made me who I am."
Brown's case
The hearing that ultimately set Brown free was possible under a 2008 statute that allows for a hearing if there is new evidence in the case, even if it is not DNA evidence. In this case, the new evidence that convinced the judge of Brown's innocence was the testimony of two witnesses who said they saw Lael Brown alive the night of Nov. 6, 1993.
At trial, it was emphasized that Lael Brown was shot the morning of Saturday, Nov. 6, 1993, the only time Debra Brown had no alibi.
Though the two are not related, Lael Brown entrusted Debra Brown with a key to his home — which was another factor that led police to charge her with his death. Police said there was no sign of forced entry and Debra Brown was the only person with a key to Lael Brown's home. They also said she had forged more than $3,500 in checks and had a motive to kill him.
Brown was adamant that she was innocent and in 2002, the Rocky Mountain Innocence Project took up her case. Attorneys from the center and a team who worked the case for free, said they were "overjoyed" to see Debra Brown outside the confines of the prison walls.
"This is, of course, a joyous day for Deb and her family," Sullivan said. "After 17 years, Deb comes home. This is a day of gratitude."
And with a simple statement, Brown added, "I've been blessed beyond measure."
-----
Written by Emiley Morgan with contributions from Pat Reavy.
×
Photos
Related stories
Most recent Utah stories