This archived news story is available only for your personal, non-commercial use. Information in the story may be outdated or superseded by additional information. Reading or replaying the story in its archived form does not constitute a republication of the story.
SALT LAKE CITY -- It's a story about music that doesn't involve a note, but the young people involved just want to play.
For the past eight years, Summerhays Music Center in Salt Lake has held a contest where the winners get a brand new professional instrument worth $4,000 -- for free. But, they really have to work for it.
It's called the "Hands On" contest for a very specific reason.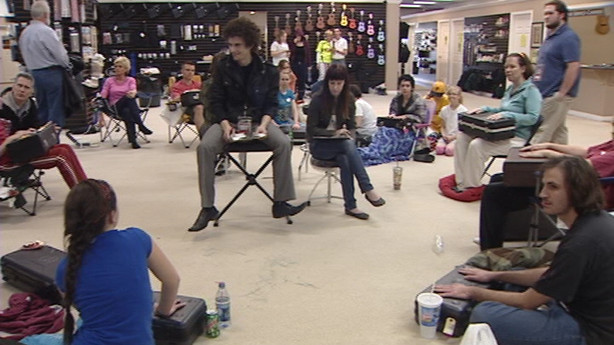 "It's really weird. Your fingers get all swollen and painful," said participant Kevin Buckner.
Beginning last Friday at 6 p.m., 111 contestants placed both hands on an instrument case, plopped down on the floor and made themselves as comfortable as they could for the long haul.
"It's hard and it's hilarious," said Summerhays marketing manager Jenny Bauman.
But it's the end result that drove these contestants -- they were in it to win a new professional-quality musical instrument worth several thousand dollars.
"You get to win either a clarinet, flute, saxophone, trombone or trumpet," said contestant Alexia Goodman.
---
It's hard and it's hilarious.
–Jenny Bauman.
---
The contestants got a 10-minute break every six hours. They could drink or eat snacks at any time, just as long as their hands and fingers stayed on their instrument case.
Though there wasn't a lot of action in this competition, strategy was everything.
"I drink a shot of 5-hour energy drink, eat a protein bar and some Corn Nuts and I've been doing that every break," said Buckner.
Just 10 people remained at the 30-hour mark, looking bleary eyed and miserable. The rules also changed a bit. They turned up the heat inside the room and talking was no longer allowed.
Relatives did their best to keep their contestants entertained and in the game. But, one by one, they kept dropping off.
"I'm never going to come back," said one contestant. "That was horrible. I'll just go and buy a trumpet because it's not worth it."
The winners were 23-year-old Levy Lundgreen -- who lasted 39 hours and chose a saxophone -- and Kadelyn Egan, who held on even after falling asleep at 3 a.m. She took home a new flute.
Email: kmccord@ksl.com
×