Estimated read time: 3-4 minutes
This archived news story is available only for your personal, non-commercial use. Information in the story may be outdated or superseded by additional information. Reading or replaying the story in its archived form does not constitute a republication of the story.
If you have photos of this wildfire you wish to submit, please send them to photos@ksl.comPHOTOS: Utah Wildfires 2007
SALT LAKE CITY (AP) -- Federal help is coming to firefighters who are trying to stop a huge wildfire in Sanpete County.
The Salt Creek fire has burned more than 23 square miles.
The Federal Emergency Management Agency has authorized financial assistance to help contain the blaze.
The fire is threatening homes in Holiday Oaks and damaged the main water line into Nephi.
Several other wildfires also continue to burn in Utah. The Dairy Valley fire started Friday and has burned more than 39 square miles and is only 5 percent contained in northwest Utah.
(Copyright 2007 by The Associated Press. All Rights Reserved.)
---
Earlier
Sam Penrod Reporting
Cabin owners watch and wait, as a major wildfire keeps burning closer to their property in Central Utah. The Salt Creek Fire continues to burn for a third day. It keeps gaining ground, but now resources are beginning to arrive in Utah to try to get it under control.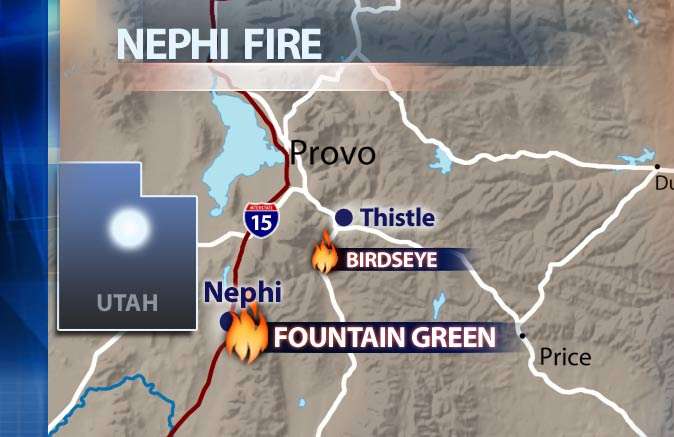 It started burning east of Nephi on Thursday and is now moving east into Sanpete County.
The wind has picked up, and the fire is spreading fast. There is a lot of lightning in the area and no rain, which could make the situation even worse.
The good news is that a national wildfire team from Florida, one of those Type One teams took command of this fire at 8:00 tonight, but they have a huge job ahead of them, this fire is only 15 percent contained. So, people who live in this area have a lot to be worried about tonight.
For the third night in a row, smoke fills Juab and Sanpete Counties as the Salt Creek Fire rages on. More than 14,000 acres have burned since sparks on the highway ignited the blaze on Thursday afternoon.
Helicopters have made drops on the hot spots all-day long, trying to keep the fire from spreading.
A few miles to the east, there are about 50 cabins in the Indianola Valley that are in danger, and the owners are trying to get out their belongings. Cabin owner Molly Willis says, "It took us some maneuvering to get our stuff out, so we are really lucky to be able to get in there and get our stuff out, and now there is a crew there so we feel good about that."
Near the Big Horn ranch, west of Indianola, Kim and Karen Durfee are enjoying their cabin, realizing it's right in the fire's path. Kim Durfee says, "This is our home away from home. Winter, summer, we're up here every weekend." The Durfees have tried to make their property wildfire safe. They just hope they don't have to find out if they did enough. Karen Durfee says, "We've cut fire areas, we've cut brush back, we've moved things we know would burn quickly, widened roads, you might call them fire lines." They've taken some of their property off the mountain, and their truck is backed up and ready to evacuate, if the fire forces them out. Kim Durfee says, "If I see flames on that ridge, we're out of here, cut our losses and away we go."
And we've learned in the last hour that the Durfees and everyone else who is in the area west of Highway 89 in Indianola has been evacuated because the fire is closing in.
Gov. Jon Huntsman was here today to see the situation for himself, and residents are hoping more firefighters will get here soon, before even more people and property is threatened.
×
Photos
Related links
Most recent Utah stories