Estimated read time: 1-2 minutes
This archived news story is available only for your personal, non-commercial use. Information in the story may be outdated or superseded by additional information. Reading or replaying the story in its archived form does not constitute a republication of the story.
Sarah Dallof Reporting You know it's hot when you're running out of ice, and that's what's happening to one Salt Lake business.
The problem has nothing to do with broken equipment or not enough workers, it's that it's just too hot. Bagley Ice's clients include the Rocky Mountain Raceway and the Salt Lake City Arts festival, and while they are fulfilling their orders, it hasn't been easy.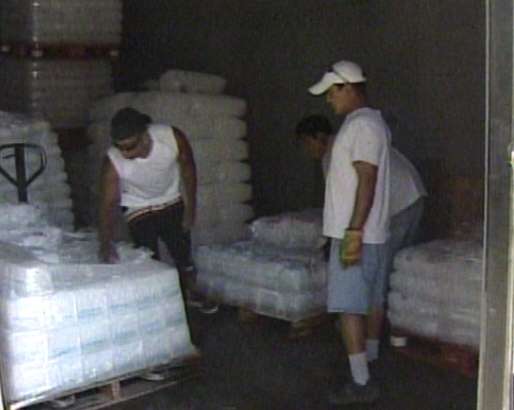 Lack of water isn't a problem at Bagley Ice. The problem is they can't make it freeze any faster. Demand is so high the family-owned company runs out every day. By the time they pack it and bag it the next day, it's already sold.
Brad Burr says, "Our baggers are running overtime; they're running 12 hours a day trying to keep up with the ice machine."
But if you have to work overtime in July, there are worse places you could do it. Outside it's about 100 degrees. In the Bagley Ice building it's right around 10.
The busy season doesn't come as any surprise; it's the same every summer, so Bagley always bags extra ice in the spring and stores it. This year, though, there have been so many days over 100 degrees they ran out of their extra earlier than expected, putting the pressure on at the family owned business.
Don't feel too bad for these guys, though. Once winter hits, so does their slow season, and they'll be enjoying their break, surrounded by snow.
Bagley Ice makes about 50 extra tons of ice during its slow season. That went a month earlier this year versus years past.
×
Most recent Utah stories