Estimated read time: 2-3 minutes
This archived news story is available only for your personal, non-commercial use. Information in the story may be outdated or superseded by additional information. Reading or replaying the story in its archived form does not constitute a republication of the story.
Alex Cabrero Reporting New driveways are being poured at homes all across the valley, in large part due to a KSL investigation a few months ago. We heard several stories from homeowners complaining about their brand new driveways crumbling, and Richmond American Homes, the homebuilder, doing nothing about it.
Well, now they are doing something about it. It's taken threats of class-action lawsuits, public embarrassment and hundreds of phone calls, but in the past couple of months, Richmond American has been replacing driveways that were flaking apart. In fact, in Stansbury Park, dozens of homes now have new driveways.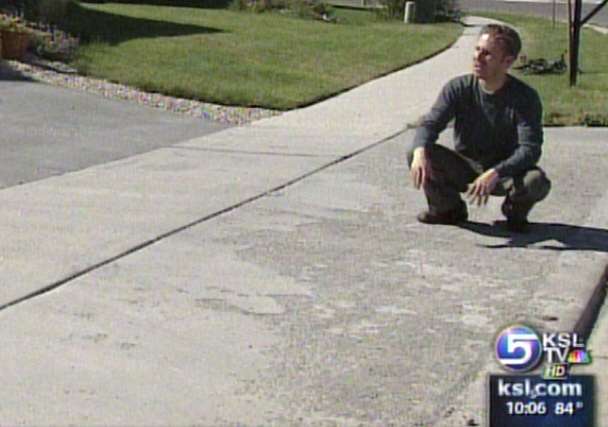 Korey Martin says, "It was exciting to have them show up the next day."
Take a look at Korey Martin's brand new driveway and you might wonder why he's so happy, but take a look at his old driveway, the one known as the ugliest driveway in Stansbury Park, and you'd be happy, too. "I'm tickled to death that something happened," Martin said.
After our story a few months ago about all the crumbling driveways in Richmond American homes, residents say the company has started to pour new concrete.
Daniel Steadman says, "I don't think it was until then that they started to come around."
It's just not one or two driveways here and there. Several were recently torn apart by Richmond Homes because they're planning on replacing them.
Homeowner Rachelle Pehrson says, "I'm glad they listened. We didn't want a lawsuit. We didn't want to create anything bad. We just wanted good driveways. We wanted what we paid for."
What was paid for, some homeowners are still waiting for, though. John Bishop says his driveway is still flaking apart, even though it's the second one Richmond poured. So far, he says it doesn't look like they're willing to help any more. "The only thing I've heard officially is 'no', and, 'but just be patient, because maybe,'" Bishop says.
Steadman says, "I can't imagine the cost. If they had just done it right the first time, they would've been so much further ahead."
Back when we did our investigation in May, Richmond American refused to answer any of our questions, releasing only a statement saying that they stand by the quality of their product, the very product they're now replacing for some homeowners.
×
Most recent Utah stories