Estimated read time: 5-6 minutes
This archived news story is available only for your personal, non-commercial use. Information in the story may be outdated or superseded by additional information. Reading or replaying the story in its archived form does not constitute a republication of the story.
PROVO — A judge ordered Thursday that a man declared incompetent to stand trial on charges of child sex abuse be released from jail — prompting criticism from Utah's governor.
An "outraged" Gov. Gary Herbert criticized a system that would allow a suspected child predator to go free, saying he hopes his frustrations prompt the Utah Legislature to address the problem.
Saying he had no choice, 4th District Judge James Taylor approved Lonnie Johnson's release, but said he plans to review the case in six months and wants two evaluations by new doctors when the case is reviewed on Nov. 17.
Johnson, 38, who is a registered sex offender from a child rape conviction in Washington state, has spent the past year and a half in the Utah State Hospital.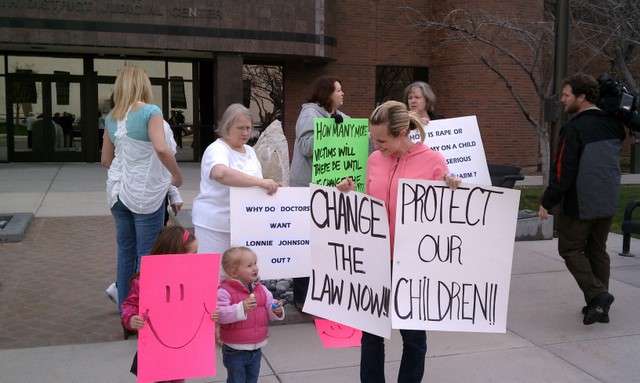 Prosecutors wanted the judge to order the Utah State Hospital to continue treating Johnson until he could face 21 counts against him of rape, sodomy and aggravated sexual assault of a child. But Taylor said he had no legal authority to keep Johnson locked up.
"The Constitution prohibits me from holding someone who has not been convicted and who cannot participate in their own defense," the judge said. "We are at the end of the road. I can't do anything but have him be released from the state hospital."
Governor issues statement
In an unusual move, Herbert issued a strong statement about Johnson's release.
"I am outraged that a convicted child sex offender, currently facing another round of accusations, could be released without being tried for current charges. That is not justice," the governor said. "When it comes to the safety of our children, there is no margin for legal contortions or equivocation. We owe it to our children to make sure it never happens again. It's outrageous for both the victims and the accused that Mr. Johnson won't get his day in court."
While Herbert seldom issues statements about specific criminal cases, spokeswoman Ally Isom explained late Friday that it was sent in response to numerous national and local media inquiries. National news programs had featured the case, including CNN's "Nancy Grace" show which had broadcast the governor's phone numbers, urging people to call and complain. Isom said the governor received numerous emails and phone calls of public outcry about the possibility of Johnson being released.
---
I am outraged that a convicted child sex offender, currently facing another round of accusations, could be released without being tried for current charges.
–Gov. Gary Herbert
---
Court administrators also reported that they received more than 100 voice mail messages Wednesday from people opposed to Johnson's release. The calls were described as harassing, but not threatening and were received from at least 20 states.
Herbert had been "tracking" the case, but "hasn't said anything (until now), allowing the judicial process to work," she said. "He feels the Legislature ought to do something to fix this."
Coincidental connection to judge
Taylor is the same judge who in November signed a civil stalking injunction against Herbert's son, Nathan Herbert, banning him from being within 50 yards of a woman who accused him of stalking her for more than a year.
The governor's wife criticized Taylor, saying he had already made up his mind about her son before the hearing. "I do not think the judge did his job today ... and the governor feels the same way," she said at the time.
But Isom said Thursday's statement was in no way connected to Nathan Herbert's case.
"I can tell you there is absolutely no connection," she said, adding that the governor did not know when he issued the statement that Taylor was the judge. "The governor's statement was based on today's ruling and the facts of the case."
Johnson's history
Johnson has a cognitive disorder, prosecutors say. He was charged in 2007 with the 21 sexual assault charges. Authorities allege he had inappropriate contact with his stepdaughter and her cousin over five years beginning in 2001. Both alleged victims are now adults.
Taylor deemed Johnson incompetent for trial in 2008. Under Utah law, a defendant fits that condition if he suffers from mental illness, cannot understand the charges against him or is unable to participate in his own defense. For a civil commitment, a doctor must find that a person's mental illness makes him a danger to himself or others.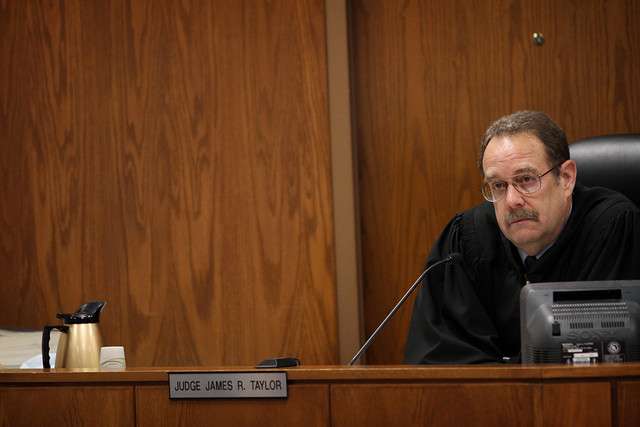 The court ordered doctors to attempt to restore Johnson's competency but about a month ago they said they had seen no improvement despite 2½ years of treatment.
On March 10, the judge ruled that Johnson is not only incompetent, but is not likely to be restored to competency. Johnson has undergone nine evaluations during the past three years. State doctors have determined Johnson is not a substantial danger to himself or to society.
Last week, during a closed hearing at the Utah State Hospital, a different judge declined to have Johnson civilly committed.
The families of Johnson's alleged victims have been outraged that he could be set free. About 10 family members held signs and protested outside the Provo courthouse before the hearing Thursday.
"I'm just in shock," said Cheri Johnson. "I'm just in shock they can't hold him, but the judge's hands are tied."
"We're not going to let this die, we're not going to lay down (and) we're not going to go away — as much as Lonnie and his family would like that to happen," Christy Danner said. "And I think the truth will come out. I'm just worried about how many more victims before that truth comes out."
The charges against Johnson have not been dropped, but will remain on hold pending the Nov. 17 review hearing. If found competent for trial then, Johnson would be taken back into custody to face the charges.
Johnson's sister, Cindy Lorenz, denies the allegations against her brother and said they stem from a bitter divorce battle between Johnson and his wife.
------
Story written by Sam Penrod with contributions from the Associated Press.
×
Photos
Related Links