Estimated read time: 1-2 minutes
This archived news story is available only for your personal, non-commercial use. Information in the story may be outdated or superseded by additional information. Reading or replaying the story in its archived form does not constitute a republication of the story.
Randall Jeppesen, KSL NewsradioA Draper couple is wondering what to do next after part of their backyard slid down the hillside.
Part of the vinyl fence behind Jason and Cherie Robles' house is hanging in the air because the ground underneath it slid down the hillside. He says it's a massive landslide that caused the problem. He says it's about 40 feet wide and it goes down the hill for about 100 yards.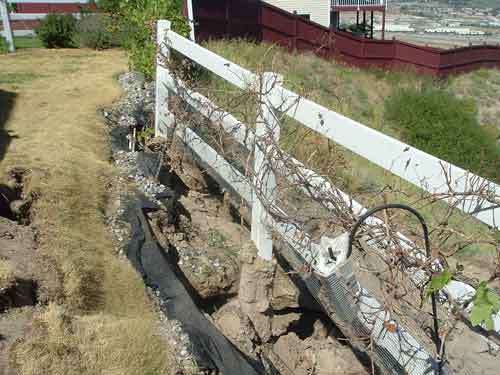 The slide happened about a month ago after we had that day and a half of rain. Robles says," What is it about, about a foot, a foot and a half away from the deck right now. So if a rainstorm were to happen, I would imagine that you'd probably lose, we'd probably lose some of the deck."
The city says they're not responsible for the slide. The city says a leaking sprinkler system saturated the yard, causing the slide.
But the Robleses says the problem continued long after the system was turned off.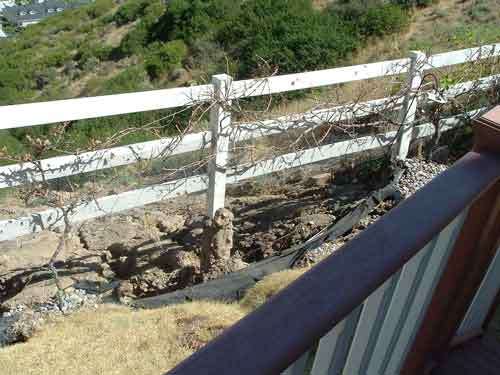 Draper Councilman Bill Colbert also lives atop point of the mountain near the Robles. He says he 's been concerned about slide potential in the hilltop developments. He says residents should protect themselves by monitoring how much they water and take out more insurance.
Robles doesn't know what he's going to do next because engineers have told him it could take an $80,000 retaining wall to shore up his property. It's money he doesn't have.
(The Associated Press contributed to this report.)
×
Most recent Utah stories