Estimated read time: 4-5 minutes
This archived news story is available only for your personal, non-commercial use. Information in the story may be outdated or superseded by additional information. Reading or replaying the story in its archived form does not constitute a republication of the story.
DRAPER — A step toward a down payment on a house went sour for a Draper couple when cash used to buy a couple's flat-screen TV turned out to be counterfeit.
Marcel and Candice Cochegrus decided to sell some non-essential belongings to help save for their first house. So they listed their 42-inch Philips TV on KSL.com Thursday and got a call right away from someone whose phone number was blocked.
---
To have someone come into my home and steal right in front of my face; I don't want this to happen again. I was crying all day.
–- Candice Cochegrus
---
The caller came over and paid cash, so the Cochegrus' didn't think anything of the blocked phone number. Marcel said he put the buyer's money in his wallet — $600 in cash — and helped the man carry the TV to his car.
But when Marcel got to the bank the next morning, a teller spotted the mix of fake $20- and $50 bills that would have to be confiscated and sent to the Secret Service for investigation.
"Maybe if it would have been $100 bills we would have been more concerned," Marcel said. "It just never crossed our minds that something like this might have happened."
The bank clerk noticed all of the bills had the same serial number. "But because we're honest people, we hadn't even thought to check," Candice said. "To have someone come into my home and steal right in front of my face — I don't want this to happen again. I was crying all day."
But Candice also went to work, contacting police and scouring the Internet to see if the TV might turn up somewhere else online. She and Marcel called people who understand investigative work. "My sister is actually a cop. I've been trained to call people. I've tried to do everything. I called police. I called the Secret Service."
Glen Passey is the resident agent in charge at the Secret Service's Salt Lake office. He described counterfeiting cases as "constant."
"We work on them all the time," he said. "Always we have cases going on in counterfeiting. Continuously."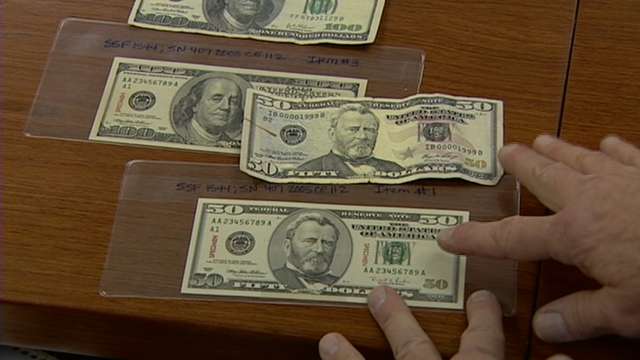 And the first victim is whoever is holding the bills. "Wherever its detected it's pulled out of the system. So if you're the one holding the money, you're out the money," Passey said. And counterfeiters don't have to try and pass fake bills to be in trouble. "Just the making of counterfeit bills is a federal violation," he said.
Marcel said he and his wife were shocked and upset when the found out what had happened. "We didn't know what someone like that could do to our family. At the same time it was humbling because a lot of friends and family came to the rescue. They offered money to help."
Draper Police Sgt. Chad Carpenter said his department is investigating. Tracing the blocked phone call will have to start with a subpoena to the phone company, he said.
Passey said the Secret Service does not talk about specific investigations. He said Secret Service agents routinely train bank employees and others how to spot bogus bills.
Passey acknowledged that some merchants verify cash is authentic by marking bills with a felt-tipped pen that reacts or leaves a stain on bills printed on paper instead of the authentic cotton stock. He said that method is not always reliable but it does help spot some counterfeit bills.
Passey suggested three key things to look for on paper money to determine whether it is authentic. One is the numeral in the lower right-hand corner, which should change colors when the angle of view is changed. "Counterfeiters almost never go to the trouble of doing that."
Another is the security thread that runs vertically through the bill, either on the left or right side depending on the denomination, that alternately repeats the words "USA" and "TWENTY," or whatever matches the denomination of the bill. The third identifier is a watermark on the right side of the bill that contains an image that matches the portrait printed in the center of the bill.
KSL.com General Manager Brett Atkinson said monitoring fraud "is a huge priority" on the website and that the company invests a lot of its own resources to try and combat fraud. He said problems that arise in the face-to-face transaction between the buyer and seller are not exclusive to any particular medium.
"We do post messages about how people can try to be aware of what they're doing in their transactions," he said. There is also information on the website about avoiding fraud and resources for someone who is a victim of fraud.
Email:sfidel@ksl.com
×
Related links
Most recent Utah stories