This archived news story is available only for your personal, non-commercial use. Information in the story may be outdated or superseded by additional information. Reading or replaying the story in its archived form does not constitute a republication of the story.
AMERICAN FORK — The so-called Super Bowl of bridge moving took place Saturday night without commercial interruption but plenty of fanfare.
More than 1,100 people watched as self-propelled modular transporters put in place the 354-foot, 3.8 million-pound Sam White Bridge — the longest two-span bridge ever moved in the Western Hemisphere.
"We like to describe it as a football field with end zones," said Robert Stewart, construction manager for the Utah Department of Transportation's I-15 CORE Project in Utah County. "It's an incredible size of bridge to be moving into place."
It took contractors about five hours to move the bridge into place over I-15 in American Fork -- three hours ahead of schedule. The work was completed about 4 a.m., allowing the freeway to reopen around 7 a.m. Sunday.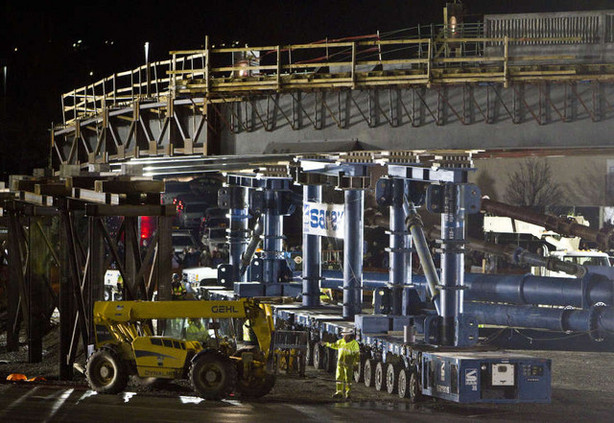 "We used to build bridges that caused months of traffic delays," said Federal Highway Administration division administrator James Christian. "Now we can do that in a matter of hours through the middle of the night."
The move attracted officials from the Federal Highway Administration and other state departments of transportation, as well as industry professionals from as far away as China.
"We've kind of made the connection with the Super Bowl experience," Bryce Jaynes, the accelerated bridge construction project engineer for UDOT, said prior to the move. "We're basically moving a Super Bowl field up there, and we're moving it in a matter of hours." p>
The bridge was actually constructed 500 feet away from its final destination, built "offline" to help reduce delays in what has been a massive overhaul of I-15 in Utah County. Constructing it off-site helped to minimize the traffic crunch and also helped protect worker safety.
"The Sam White Bridge move demonstrates our commitment to employing the latest technology to minimize delays to the traveling public and delivering our projects as fast as possible," said John Njord, UDOT's executive director.
Using a joystick to control two sets of hydraulic jacks on wheels, the bridge was lifted 21 feet into the air. It was then moved from the east side of I-15, across eight freeway lanes and lowered into place.
For UDOT, bridge driving is business as usual; the department has moved 23 bridges this way in the past three years. That's nearly twice as many bridges moved by all other states combined, UDOT officials said.
For outsiders, this is a big technology that could revolutionize the way the world builds roads.
"We'll take back the information we learned here and then are certainly looking to target certain projects where we can implement this technology," said Paul Rowenkamp, a bridge standards engineer with the Minnesota Department of Transportation.
The bridge is one of 59 that will constructed, rebuilt or modified by December 2012 as part of UDOT's $1.7 billion I-15 makeover in Utah County. The state-funded project will reconstruct 24 miles of the freeway between Lehi and Spanish Fork to meet transportation demands for the next 20 years.
------
Story written with contributions from Amy Joi O'Donoghue, Jared Page and Keith McCord.
×
Photos