Estimated read time: 1-2 minutes
This archived news story is available only for your personal, non-commercial use. Information in the story may be outdated or superseded by additional information. Reading or replaying the story in its archived form does not constitute a republication of the story.
John Hollenhorst ReportingUtah's big wildfires this month are stretching firefighting resources thin. It's shaping up to get even worse.
But government agencies still have enough resources to get the job done, for now.
"Stretched, but not broken." That's how one fire official described our firefighting resources today. So far, so good. But the big picture is worrisome.
The firefighting season started early and went big. Huge wildfires burned for weeks in Florida and Georgia. Utah firefighters went East to help.
Now, eastern firefighters are heading west to return the favor. It's a typical juggling act: firefighters going long distances, jumping into action where and when they're needed.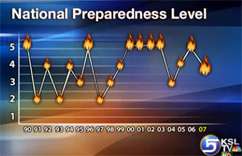 If resources get stretched too thin, the U.S. will call for help from other countries. That so-called Preparedness Level Five hasn't kicked in yet.
Level Five used to be uncommon, but in the last seven years we've hit Level Five five times. Right now we're at Level Four. But it's early; Level Fives usually happen in August.
Firefighters Deployed
Type 1 Crews 76%
Type 2 Crews 73%
Total Personnel: 10,700
We still have unused domestic resources. About three-fourths of our national firefighting crews are assigned, so the fires can grow a bit before there's a personnel crisis.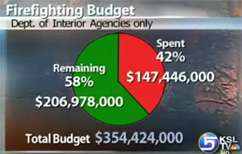 On the money side, we're spending a ton, but there's still more than a ton left. Out of $354 million budgeted, the Interior Department has spent $147 million. That's about 42 percent of the firefighting budget.
But, again, it's early. It's hot. It's dry. And in Utah we still have one more fireworks holiday. So even though our big fires are getting tamed, firefighters are not breathing easy.
×
Most recent Utah stories