Estimated read time: 2-3 minutes
This archived news story is available only for your personal, non-commercial use. Information in the story may be outdated or superseded by additional information. Reading or replaying the story in its archived form does not constitute a republication of the story.
Carole Mikita ReportingWhen the Mormon Tabernacle Choir tours, the group sings for tens of thousands of people, but on this recent trip, the singers had a unique performance. It was not in a concert hall, the musical numbers were performed without accompaniment and it proved to be an unforgettable experience for everyone.
Wherever they are, the singers try to make their concerts meaningful and personal to audiences. When 10-year-old Chase Burch walked into a hotel in Memphis, Tennessee, she and her parents were hoping to meet a few members of the Mormon Tabernacle Choir. Instead, more than 300 greeted them.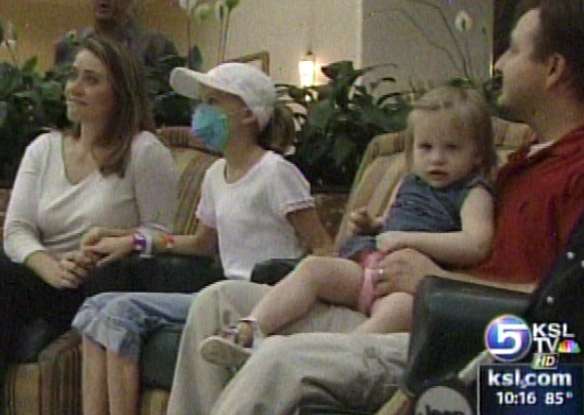 The Burch family, from California, wanted to attend the choir concert the next day, but Chase is undergoing treatment at St. Jude's Children's Hospital for an aggressive form of brain cancer, and she can't be in crowds.
How did they know, she wondered? The choir members sang "A Child's Prayer," one of Chase's favorites.
The Burch's call their daughter an amazing, wise soul who is fighting her disease with faith, just like Joshua, the Old Testament warrior.
They called the choir voices angelic, a sampling of heaven and a memory to cherish.
Season Burch, Chase's mother, said, "That's something we'll definitely take with us. She's got a three-month battle here that we're gonna fight, and she's gonna win."
Choir member David Spencer said, "This is one of the highlights. You think of everything they're going through, and maybe we can just add a little bit of help and support to 'em. It was well worth it."
Another choir member, Bonita Cross, said, "What a marvelous thing. It does as much for us as it does for this sweet, little family. Hopefully it added to their hope."
Chase's message to the singers was, "Tell them that I love them". Her parents sent the choir a thank-you that said "May kindness be returned to you in the same beautiful way it was given!"
×
Most recent Utah stories