Estimated read time: 1-2 minutes
This archived news story is available only for your personal, non-commercial use. Information in the story may be outdated or superseded by additional information. Reading or replaying the story in its archived form does not constitute a republication of the story.
Samantha Hayes ReportingTwo young men are under arrest for stealing a car and trying to get away from police. They might have gotten away with it, but someone was watching them.
The two suspects driving the stolen silver Honda probably had no idea the car behind them was an undercover officer, until he flashed his lights, signaling them to pull over.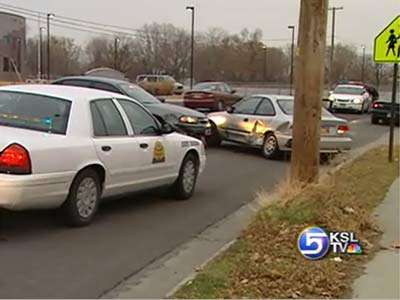 Kip Ingersoll, Metor Vehicle Enforcement Division: "The vehicle refused to yield and started going down the street at a high rate of speed."
The officer attempted a pit maneuver, but the suspects turned into the officer's car. That's what led to the accident.
Kip Ingersoll: "Two suspects ran away. There was a short foot pursuit and both have been arrested."
The officer who caught them was undercover, looking specifically for stolen vehicles. He is part of the Utah Motor Vehicle Enforcement Division. If you haven't heard of it, it's probably because the agency is under the Tax Commission and is a sister agency to the DMV.
The enforcement division has 24 officers who regulate automobile dealerships, sales people, and body shops, and go undercover to catch car thieves. Last year the agency recovered 448 stolen vehicles, an estimated value of 3 and a half million dollars to Utahns.
State Farm Insurance reports the Honda Civic, the vehicle stolen in this latest incident, as the most frequently stolen car in the country and in Utah. The Honda Accord is also in the top three.
In this case it was also the way the suspects were behaving that caught the officer's attention.
Kip Ingersoll: "When he saw the occupants acting suspiciously, he ran the plates and came up to be a stolen vehicle."
The suspects will be charged with evading law enforcement and possession of stolen vehicle.
×
Most recent Utah stories