Estimated read time: 1-2 minutes
This archived news story is available only for your personal, non-commercial use. Information in the story may be outdated or superseded by additional information. Reading or replaying the story in its archived form does not constitute a republication of the story.
Brooke Walker reportingA high speed chase through city streets ends with a battered police car, and another vehicle overturned.
The pursuit lasted only minutes, but reached speeds close to 90 miles an hour. The driver ended up in the hospital.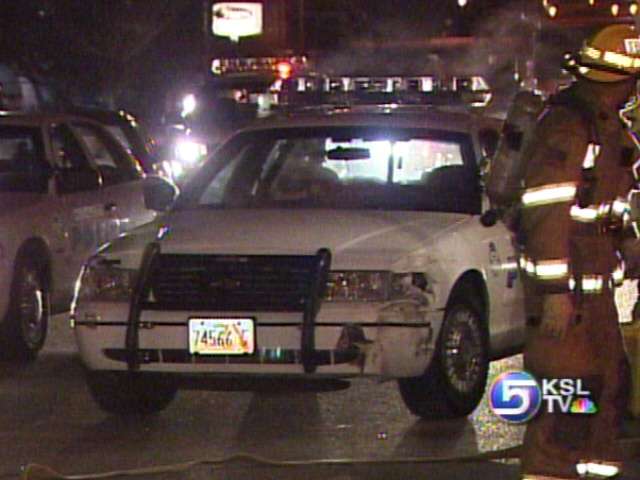 The chase began near 35th South and 40th West. A gas station attendant flagged down an officer after someone tried to skip out without paying.
When the driver wouldn't stop, police tried to close in, and that's when things picked up.
We're talking speeds around 85 miles an hour - that's some pretty fast driving though city streets. It's not something police would normally pursue, but in this situation, they felt it was a matter of public safety.
Sgt. Mike Buchanan/West Valley Police Dept.: "Because of the speeds the driver was driving at when the officer first contacted him. He looked to be dui, which made him a danger on the road. So we figured we had to stop him before he endangered some innocent citizen."
The chase lasted a total of about four minutes. Police finally cornered the car in Murray.
A West Valley police officer pitted the car, sending it rolling into a nearby business. It banged up both cars pretty badly, but no one was seriously injured.
The 26-year old driver spent the night in the hospital, for observation. Police expect him to be fine, with the exception of a few pretty heavy charges against him.
He already had a pending warrant for possesion of a controlled substance. Now add to that possesion of a stolen vehicle, possesion of drugs, reckless driving, gas theft and fleeing an officer, which is a felony charge.
That's quite the list. But police say overall, they're just glad no one was seriously hurt.
×
Most recent Utah stories