Estimated read time: 2-3 minutes
This archived news story is available only for your personal, non-commercial use. Information in the story may be outdated or superseded by additional information. Reading or replaying the story in its archived form does not constitute a republication of the story.
John Daley Reporting A new KSL-TV/Deseret Morning News poll by Dan Jones shows most Utahns believe global warming is real and that humans are causing or increasing the problem.
The numbers also show strong approval of Governor Jon Huntsman's new climate pact with his Californian counterpart, Arnold Swartzenegger.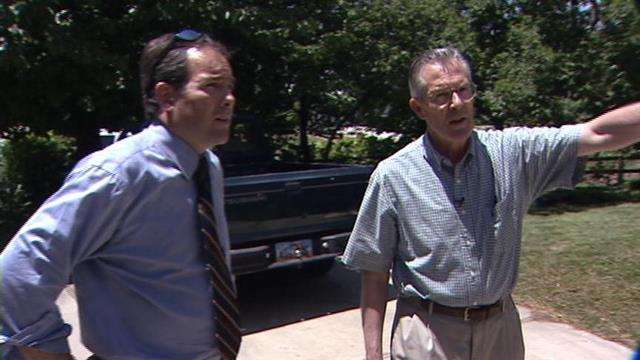 On a 100-degree day, Don Jarvis' Provo home feels cool and comfortable. He shares his secrets: Number one, shade trees planted to the south and west.
"If you plant a deciduous tree in front of a window wall, then the tree shades the window wall during this hot summer," he explained.
Jarvis, a former BYU Russian professor, says he's trying to do his part for the planet. He's switching over to compact florescent bulbs, energy-efficient window blinds, and -- like a dozen other Utahns -- hosting a get-together to coincide with the Live Earth global warming concerts.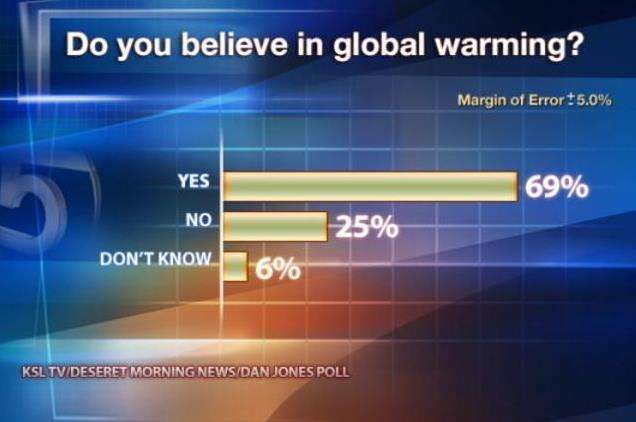 "I'm hosting a house party because I think we shouldn't wait for everything to come from the top down. Most good things in this life come from ordinary, common people doing the right thing," he said.
A new KSL-TV/Deseret Morning News poll shows many Utahns share that view.
We asked 410 Utahns: Do you believe the Earth's weather is getting hotter? In other words, do you believe in global warming?
Sixty-nine percent said yes. Twenty-five percent said no.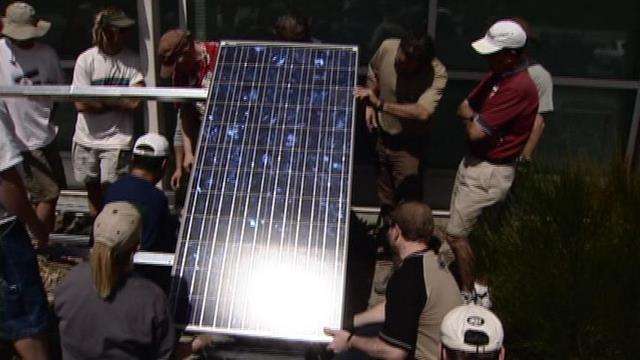 We also asked Utahns if they believe global warming is being caused by or increased by human activities. By far, most said yes.
Eighty-four percent of those who believe in global warming say humans are causing or increasing it. Thirteen percent say there is no human link.
In April, Governor Huntsman said, "Climate change is one of the most compelling issues of our time. Dealing with it, in my opinion, is not a choice, but rather an imperative."
Utah's chief executive recently signed a climate pact with California Governor Arnold Swartenegger to set standards to reduce greenhouse emissions. That move earns high marks with Utahns. Seventy-four percent support the climate deal, 13 percent do not.
Jarvis, for one, echoes the governor's concerns for younger generations.
"I want them to grow up in a world that is livable," he told us.
His solution is a carbon-neutral future, with renewable energy leading the way.
Forty-three percent of those polled say it's one of the most, if not the most, significant issues today. Fifty-three percent say it's not.
Cable channels MSNBC and Bravo will broadcast Live Earth.
For more information on local gatherings and broadcast times or to watch Live Earth online, follow the link on this page.
×
Related links
Most recent Utah stories