Estimated read time: 2-3 minutes
This archived news story is available only for your personal, non-commercial use. Information in the story may be outdated or superseded by additional information. Reading or replaying the story in its archived form does not constitute a republication of the story.
Jed Boal ReportingA family struggles with grief tonight after a fire killed a two-year-old girl in Unitah County and seriously burned her father and brother. The father was enjoying vacation time with his kids when the fire erupted.
Firefighters in Uintah County received the call last night shortly after 10:00. When they got to the remote ranch they discovered an explosion and fire had leveled a mobile home and devastated a family.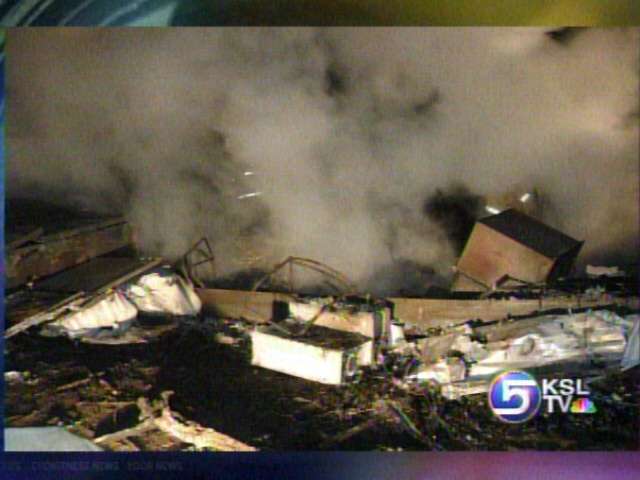 This is all that's left of the mobile home Dave Calder enjoyed when he took his kids to the family ranch in Uintah County. Investigators think the father used gasoline to start a fire in a wood stove, when it exploded.
The blast killed two-year-old Haley Parish. Dave Calder of Magna was severely burned, as was his six-year-old son Braiden. He is in good condition now at the University of Utah Burn Center.
Zane Powell, Boys' Stepfather: "Obviously, he's in a scary place. He's got burns on his face and tubes everywhere, so it's scary. But Braiden's going to bounce back and Braiden's going to be Braiden."
Nine-year-old Jeremiah escaped the flames unhurt, and when his father emerged from the fire he alerted his father to jump in the river.
Zane Powell: "Some would like to call him a hero, but we're still concerned about Braiden and it's hard to have a hero when there's a tragedy. We've got to remember that he lost a little sister."
The family has not sorted out all the details. They grieve Haley's death, but know they could have lost even more.
Zane Powell: "Memorial Day we'll go out and deliver flowers and visit Haley's little grave. We won't let them forget they had a little sister."
Braiden Calder could head home from the hospital as soon as tomorrow. His father remains in serious condition.
×
Most recent Utah stories