Estimated read time: 2-3 minutes
This archived news story is available only for your personal, non-commercial use. Information in the story may be outdated or superseded by additional information. Reading or replaying the story in its archived form does not constitute a republication of the story.
Shelley Osterloh ReportingToday brought a special signing for the US Air Force. Four sisters, ages 17 to 21, left this morning for basic training. The Du sisters have always done things together, making today's patriotic pledge very appropriate. They say it also brings a whole new meaning to the term "sisterhood."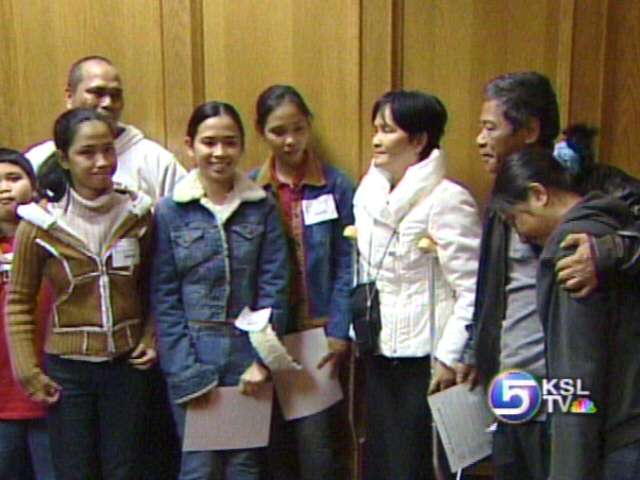 "I, (name). Do solemnly swear...do solemnly swear... That I will support and defend...that I will support and defend...the constitution of the United States....the constitution of the United States."
A unified decision made by a unified group of young women.
Juliery Du, Air Force Recruit: "We're honored to serve our country."
A country they claim after living here less than a year. In June Juliery, Maria, Cecilleann, and Rhelida moved with their parents from the Philippines to Roy, Utah.
Staff Sgt. Brandon King, Recruiter: "They came here with a purpose to join. There was a reason for coming to the states. They wanted to continue their education, help take care of the family. That's the motivation."
Another motivation is a cousin who died while serving in Iraq. They hope to continue what he started.
"He's our hero. We're very proud of him."
And now, people are proud of them.To a mother who already left two daughters back in the Philippines, saying good-bye to these four daughters is overwhelming. It's hard for parents who want their daughters to experience all American life has to offer.
Raynaldo Du, Father: "I think it's very important for my daughters to finish their talents, their educations, because that is the key so they can open the door of opportunity."
Growing up, the Du's always had a family rule -- never go anywhere alone. In the military that guideline takes on a different name.
"I think they call it, in the military, teamwork."
And teamwork it will be. The sisters left this morning for basic training in Texas. After that they say they will go where ever they're sent; they just hope it will be together.
×
Most recent Utah stories