ST. GEORGE -- At the starting line of the St. George Half Marathon, it's difficult to notice anything special about Adrian Broca. He stands amid hundreds of runners, anxiously awaiting the countdown.
It's usually at the end of a race, when he grabs a cane and holds it up while crossing the finish line, that you realize Adrian Broca is as unique as they come.
That cane is the kind a blind person uses. It's the kind Broca uses -- when he's not running distance races, of course.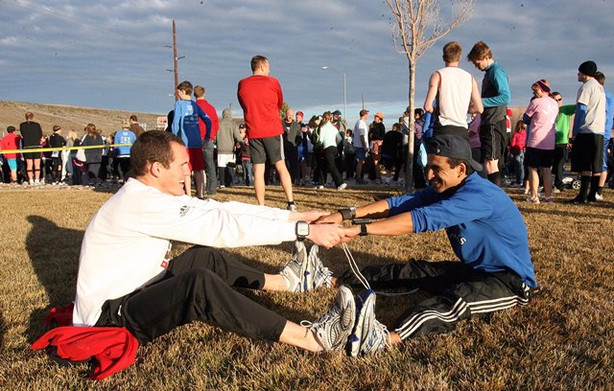 Broca is legally blind. And while a blind runner in a marathon may seem improbable, he loves nothing more than defying stereotypes.
"It's so much fun to be able to compete against other athletes who don't have any disabilities or excuses," he said. "I've never used my visual impairment as an excuse, but more of a challenge."
Broca, who is in his early 30s, lost his sight due to a genetic condition during his senior year of high school. Within a couple of months, all he could see were a few color contrasts and shadows. And the darkness consumed more than his vision.
"That's when I considered suicide," he said. "I felt like this was no way to live. There's nothing for me to do."
Broca fell deep into depression until one day, he ventured out on a walk through his neighborhood. After dozens of bumps, bruises, scrapes and accidents, he began to learn the route and could eventually tell the contrast differences between the road and vehicles.
Slowly, he learned to see with more than his eyes.
"I figured out that I could run by the curb around the neighborhood and actually distinguish large shapes of cars, depending on the lighting, and I would be able to go around them," he said. "I began to feel that sense of independence and freedom that I had before."
Feeling brave, he signed up for and ran his first marathon by following the shadows of runners in front of him. He completed the race in about four and a half hours, but he knew he could go faster -- much, much faster.
That's where a group of young men from southern Utah come in. Broca knew if he wanted to excel at running, he needed a guide to help him weave through the other runners and stay on course. Finding someone who could both keep up with him and who was willing to run with him was a challenge, until he signed up for the St. George Marathon in 2007.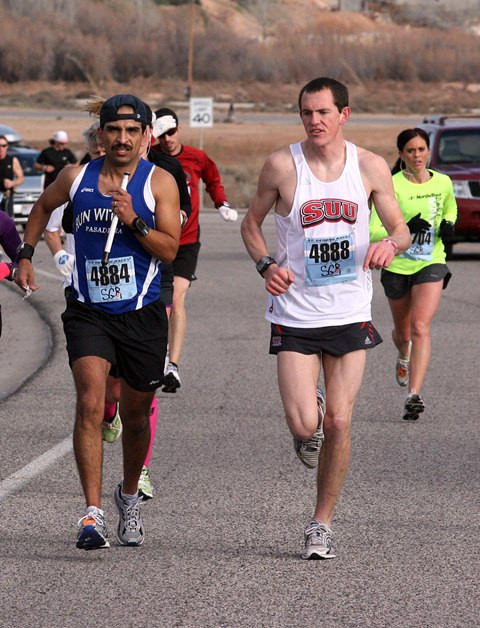 Race organizers sent out an e-mail to all participants asking if anyone was willing to guide Broca, who lives in Los Angeles. John Hart's brother got the e-mail and asked him if he would be interested in helping. Hart, 21, immediately volunteered and recruited three friends to join him.
The four young men from Cedar City -- all exceptional runners in their own right-- took turns guiding him by holding onto a tether, which is really just a shoelace. Broca grabbed onto the other side, and by gently tugging they were able to lead Broca through all 26.2 miles.
During the race, there was also a lot of talking through the course on the part of the guides. For Broca, there's a lot of listening.
"Telling him of possible obstacles he could be coming up with," explained Hart, "like, 'There's a runner coming to your right. Let's go left.'"
Broca set his personal time record during that race: 2 hours 50 minutes. He said he loved working with the young men in St. George so much he kept in touch with two of them, Hart and Clinton Rhoton, 22, while they served missions for The Church of Jesus Christ of Latter-day Saints. Once they returned, Broca came back to Utah for the 2010 St. George Marathon.
Along with Brandon Lacagnina, 18, and John Hermanson, also 18, Hart and Rhoton again led Broca through the race. He finished in 2 hours 53 minutes.
"Leading a blind person -- how many people can say they've done that?" Lacagnina said. "It's a once-in-a- lifetime thing. For being blind and coming out and wanting to do this, that is more heart than I've ever seen anyone have."
The guides say the burden of each mile is lifted because they're not running for themselves, they're running for Broca. And anytime Broca asks him to guide him, Rhoton says he will be there.
"People see he's got this disability but he's not letting it hold him back," Rhoton said. "It's just flat out amazing to see what he's willing to put himself through to follow his dreams."
For Broca, the guides from Utah are his favorite to run with. Their attitudes and character make him a better runner and encourage him to continue to conquer the impossible. Broca has run 25 full marathons, including six times running Boston. His next goal is to qualify for the U.S. Paralympic team, which he needs a marathon finishing time of 2 hours 45 minutes.
He is just five minutes away.
"I viewed losing my vision as a gift and think it's something that has propelled me to overcome my challenges and not give up no matter what the obstacle that's ahead of me might be," he said.
E-mail: jstagg@ksl.com
×