Estimated read time: 2-3 minutes
This archived news story is available only for your personal, non-commercial use. Information in the story may be outdated or superseded by additional information. Reading or replaying the story in its archived form does not constitute a republication of the story.
SALT LAKE CITY -- Utah's Carol Masheter suffered through polio, depression and the loss of a loved one. But she picked herself up and did something few people in the world have ever done.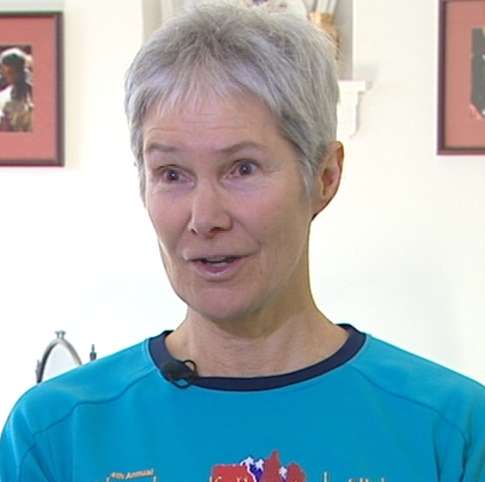 Masheter, 64, says she let out what she calls her "signature howl" after reaching the top of the world. But that yell went silent 12 years ago, when Masheter hit rock bottom.
"My mother had died, I lost my job, the man I was involved with went with someone else," she explained. "I'm a person susceptible to depression and anxiety, and that's a constant issue for me."
Masheter wouldn't stay down for long. The former University of Utah professor climbed out of her depression and decided to climb a mountain -- but not just any mountain. She wanted to conquer the greatest of them all: Mount Everest.
"Why would somebody like me, who has issues with fear of heights, little old lady -- why would somebody like that climb Everest? I guess the bottom line was I didn't want to die without knowing whether I could do it," Masheter said. "It just seemed like a splendid adventure."
So, at 60 years of age, her adventure began. With her application approved, she hired a trainer to get in the best shape of her life.
"To become part of the whole historical tradition of climbing Everest just really intrigued me," she said.
---
Why would a little old lady climb Mount Everest? I guess the answer is I didn't want to die without knowing if I could do it. It just seemed like a splendid adventure.
–Carol Masheter
---
Masheter's group arrived at base camp on April 11, 2008. After numerous decompression climbs, it took them several weeks to go from camp one to camp four -- a place called "the death zone."
But on May 23, Masheter's her final climb began. It started at 8:00 that evening and ended at 7:00 the next morning. Masheter became the second oldest woman, at age 61, to reach the summit.
"It was though time stood still," she said. "It was a most magic place, as though I were in the realm of angels and other good spirits; I expected at any moment to see someone or something float by playing a harp."
After 20 heavenly minutes, it was time to go. Not only had Masheter conquered Everest, she conquered depression, fear and grief.
The woman who had once hit rock bottom was literally on the top of the world.
"It was a dream come true," Masheter said. "I feel truly blessed."
The oldest woman to summit Mount Everest was 63 years old. Masheter says while she's tempted, she won't try to beat that record.
She has written a book about her adventure, titled "No Magic Helicopter." You can learn more about it by clicking HERE.
E-mail: kaiken@ksl.com
×
Related links
Most recent Utah stories