This archived news story is available only for your personal, non-commercial use. Information in the story may be outdated or superseded by additional information. Reading or replaying the story in its archived form does not constitute a republication of the story.
SALT LAKE CITY — When Sarah Parker speaks using sign language, she projects her vibrant personality through hand gestures, facial expressions and body language.
Despite the absence of vocal dialogue, she conveys ideas in a strong and emotive way — making herself heard loud and clear.
A new advance in technology will now allow the 27-year-old, deaf Bay Area native to engage in all kinds of passionate dialogues with virtually anyone whether they are hearing impaired or not.
---
I just went on a week-long business trip and I was able to communicate with my family and my friends (using) my computer. With this (device) I can just contact someone and sign. It's a much faster way for me to communicate.
–Sarah Parker
---
Salt Lake City-based Sorenson Communications recently announced two new products that will make Video Relay Service accessible to deaf individuals wherever they are using a personal computer or a smart phone. VRS is a video telecommunication service that allows deaf, hard-of-hearing and speech-impaired individuals to communicate over video telephones and similar technologies with hearing people in real-time, via a sign language interpreter.
Born deaf, Parker, market insight manager for Sorenson Communications, said VRS has had an "amazing impact on my life."
Before VRS, she was relegated to using TTY or Text Telephone, which lets people who are deaf, hearing or speech-impaired use the telephone to communicate by typing messages back and forth, requiring both parties to have a TTY device in order to communicate.
"It was still a barrier because I had to use English," she explained through an interpreter. "It took forever (because) you have to take turns typing back and forth, so it wasn't very efficient."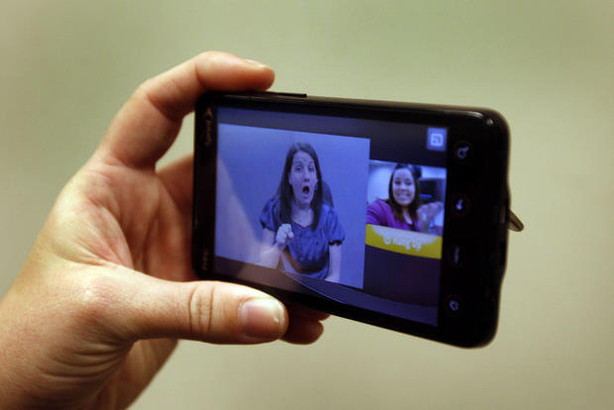 Parker said sentence structure and grammar in American Sign Language are quite different from standard English — therefore requiring translation, which can make it difficult to carry on a conversation with a hearing person using TTY or mobile text messaging.
She said it was often so cumbersome and frustrating that sometimes, she would have people just "hang up" while using the TTY device.
However, with ntouch PC and ntouch Mobile, she can use her "natural language" and hearing people can use their natural language, making communicating much easier, she said.
"I just went on a week-long business trip and I was able to communicate with my family and my friends (using) my computer," Parker said. "With this (device) I can just contact someone and sign. It's a much faster way for me to communicate."
The new technology represents a significant leap in communication options for the deaf, said Sorenson Communications president and chief executive officer Pat Nola.
"What the deaf want more than anything is … the best communication service (with) "functional equivalency,"" he said. The same features a hearing person has on their phone are the same things a deaf person would want, he explained.
Nola said ntouch PC works anywhere there is a high-speed Internet or Wi-Fi connection and includes popular features like SignMail (similar to e-mail), Call History and E911. ntouch PC also has new features that allow users to search contacts and import contact lists.
"ntouch PC and ntouch Mobile bring deaf individuals closer to communication technologies that are functionally-equivalent to those the hearing community has enjoyed for years," Nola said.
For ntouch Mobile, a Smartphone with a front-facing camera offers users the freedom to make VRS and point-to-point calls anywhere. When a caller dials a number of a VRS subscriber or the subscriber dials another phone number, they are automatically connected to an interpreter who translates the dialogue between the two participants — similar to ntouch PC, which uses a laptop camera or a mounted camera for a desktop computer.
The enhanced VRS — which is free to all Sorenson customers — allows the greatest communication accessibility ever offered, Nola said.
A liberating feature, indeed, according to Parker.
"It empowers me to be equal to any hearing counterpart," Parker said.
E-mail: jlee@desnews.com
Photo: Tom Smart, Deseret News
×
Photos
Related Links