Estimated read time: 2-3 minutes
This archived news story is available only for your personal, non-commercial use. Information in the story may be outdated or superseded by additional information. Reading or replaying the story in its archived form does not constitute a republication of the story.
Shelley Osterloh Reporting Some abused and neglected children got a very special Christmas gift today, a family to call their own.
Right now there are about 2100 children who are in state custody and live in foster homes. While it is the goal to reunite children with their biological families, it is not always possible. Today nine of those children were adopted into new families, families that promised to care and love them "forever."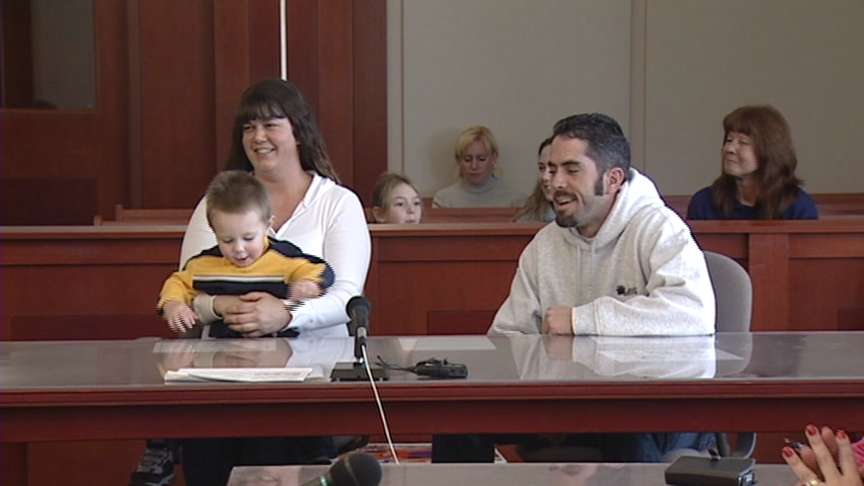 Two-year old Sabastian is a happy two-year old . He doesn't know it, but this is a very important day in his life. The two people who have cared for him since birth now become his legal parents.
Judge Sharon McCully: "It's the best possible Christmas present I could give to myself, as well I hope, to all of you families."
Sabastion's birth parents have given up their parental rights.
"She had a drug problem and when he was born they found drugs in his system and the state sent him home with us. And it's good thing that they did."
Juvenile Court Judge Sharon McCully signed decrees for nine such adoptions today.
Judge Sharon McCully: "Many of them have been through more than one placement in foster homes or family homes, and so being able to see them settle in a committed family is really the joy of being able to do this job."
The family is invited up to the bench to help sign the final decree.
Sabastion is too young to know how lucky he is, but a 13-year old boy who has been in foster care for most of his life understands.
Boy: "And all I got to say is thank you. I waited for eight years."
Reporter: "Did you spend lots of time with other families before you found the right one?"
Boy: "Yes, I have actually. There's like seven I believe; don't know, but it's a lot."
Now he, Sabastion and the other kids each have one family to stay with.
Judge Sharon McCully: "There couldn't be anything better than seeing families that choose to open their hearts and their homes to a child. I mean, that's what Christmas is and these are incredible families who are willing to do that."
×
Most recent Utah stories