Estimated read time: 2-3 minutes
This archived news story is available only for your personal, non-commercial use. Information in the story may be outdated or superseded by additional information. Reading or replaying the story in its archived form does not constitute a republication of the story.
**Caution: Some viewers may find the video disturbing**Sam Penrod Reporting
It's a disturbing story of what many people may consider animal cruelty. It involves home video of a cow being dragged by a van, that we want to caution you about.
We could not get an explanation from the property owner about what was going on and why the cow was being dragged. But those who have seen this video say it speaks for itself, and both the Humane Society and the Farm Bureau are calling this unacceptable.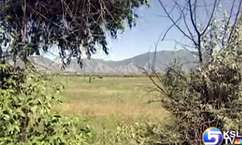 The incident happened in a pasture in Lake Shore last Friday. A neighbor who claims animals are routinely mistreated by the property owner started videotaping, and this is what happened. Someone tied a bull up to a van and started driving away.
At first, the bull resists and is able to keep up with the van. But that's when the driver speeds up. You can see that the bull is on the ground, but is dragged for a considerable distance before the driver stops.
The animal seems to be clearly in distress, and those who have seen the video call it cruel.
Gene Baierschmidt, of the Humane Society of Utah, said, "We're really shocked and outraged at the whole incident."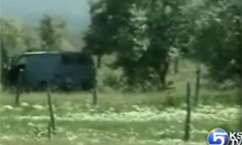 "There is nothing wrong with leading an animal to move it. That is done every day in agriculture. But when an animal is pulled and dragged, that is really inhumane," he said.
The video is also disturbing to lifelong cattle rancher Randy Parker, who is also the CEO of the Utah Farm Bureau.
"This individual did bypass what was common courtesy for the animal," he said.
"So, to see somebody do that, subjecting an animal to anything less than humane treatment, is of concern to me and to the Farm Bureau," Parker added.
The property owner is out of town, but his attorney told me the video appears to him to show a ranch hand trying to deal with a belligerent bull, something animal activists disagree with.
"Ninety-nine percent of the farmers and ranchers care about their animals. This is a case that it's too bad it happened, but there are laws on the books to deal with this. We hope the person is prosecuted to the fullest extent of the law," Baierschmidt said.
Animal cruelty is a misdemeanor crime. As for what happened to the cow, we couldn't get an answer. But it did not appear to be grazing in the pasture today.
I also contacted law enforcement in Utah County about the video, but they were unaware of the incident until I called them.
×
Most recent Utah stories