This archived news story is available only for your personal, non-commercial use. Information in the story may be outdated or superseded by additional information. Reading or replaying the story in its archived form does not constitute a republication of the story.
SALT LAKE CITY -- With what is being called the biggest game in Mountain West Conference history, the No. 4 San Diego State Aztecs look to silence the naysayers and a Jimmer Fredette-led No. 9 BYU Cougars Wednesday in a sold out Marriott Center.
"I guarantee you that BYU will be favored to win the game," Aztecs' head coach Steve Fisher said. "That doesn't mean that we won't come in thinking that we can and should win the game."
Since Fisher has been with San Diego State, the Aztecs are only 1-10 on the road against BYU at the Marriott Center. The Aztecs are 3-28 all-time in Provo. The last time the Aztecs won in Provo was back in 2005 when they edged past the Cougars in a 59-57 victory.
To say that Provo is a tough place to play for the Aztecs is an understatement. And it's not going to be any easier Wednesday night with a national audience watching.
However, the Aztecs look to continue their record-breaking success as the team with the longest current active winning streak in the country at 20-0, making it the first time in school history that the team has started off this well.
---
We've said enjoy it, but don't lose sight of the ball. We got here because we prepared well and played well.
–SDSU Coach Steve Fisher
---
The Aztecs come into Wednesday's game with five starters who played with the team last year when they won 25 games. Much of their success this season is a result of the familiarity the team has with one another.
Additionally, San Diego State has had the week off coming into the game, allowing them to prepare for the Cougars fast-paced style of play and Jimmer Fredette's ability to make plays happen.
The biggest threat facing the Aztecs is Fredette's ability to shoot from anywhere on the court, making it hard for San Diego State to guard him. Currently Fredette leads Division I with 26.7 points a game. He's shooting 47.6 percent overall and 41 percent from the three-point line.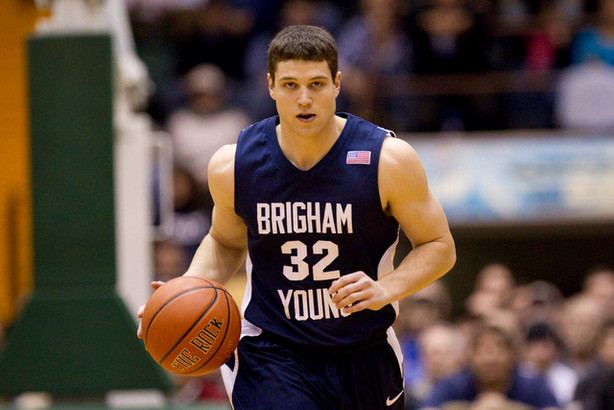 Fredette has registered 14 career games of 30-plus points and has an impeccable 90 percent free throw percentage.
"We put in a game plan, yes," Fisher said, "which obviously involves Fredette in terms of how we want to guard him, who we want to have guard him and all those things. But we'll continue to work on a variety of things, not just one thing."
"We can't overanalyze this," SDSU point guard D.J. Gay said. "He's a very good player, a very good scorer. The key is to go into this game with confidence and not being intimidated by a team or any one individual."
Since scoring 47 points against Utah and 42 points against Colorado State, Fredette has been in the national spotlight, with consideration given for the National Player of the Year award.
"Fredette is, in my opinion, the player of the year from how he's performed," Fisher said. "We're going to have to take a stance on him and hope he misses some of the shots he takes. It's almost impossible to keep him from shooting and we just have to hope that he's not shooting it particularly well."
Along with the attention Fredette has received, both San Diego State and BYU are in the national spotlight as two Mountain West Conference teams in contention to go deep in the NCAA tournament.
San Diego State has never won a game in the tournament so they're looking to show that they have the ability to make this a different year. A win over the Cougars with so much national attention on the game will certainly attract a larger audience.
Cougar Tracks:
"This game," Gay said, "is either going to be an 'I told you so,' or 'Wow, they really are this good.'"
In addition to the 2011 Bob Cousy Award finalist D.J. Gay as point guard, the Aztecs have Kawhi Leonard and Malcolm Thomas entering Wednesday's game averaging double-double figures in conference play. Leonard is averaging 15.6 points and 12.4 rebounds, with Thomas averaging 12.6 points and 11.2 rebounds.
Wednesday's game has attracted several NBA scouts and national media, all hoping to see the best of the Mountain West in a sold out game. Media members from Sports Illustrated, ESPN.com, and other sources have requested to be in attendance Wednesday to watch the showdown. Additionally, 24 NBA scouts requested seats.
"We are looking forward to maybe the most exciting game in the country on Wednesday at BYU," Fisher said. "We are the only two teams [in the MWC] that are sitting there with zero losses and we're both hoping to keep it that way. For the moment, it will be the most important game in the world."
Wednesday's sold out game at the Marriott Center is set to start at 8:15 p.m. on CBS College Sports.
"I've never had a team 20-0 before and most coaches haven't," Fisher said. "We've said enjoy it, but don't lose sight of the ball. We got here because we prepared well and played well."
×
Related Stories