Estimated read time: 2-3 minutes
This archived news story is available only for your personal, non-commercial use. Information in the story may be outdated or superseded by additional information. Reading or replaying the story in its archived form does not constitute a republication of the story.
Keith McCord ReportingFinancial analysts are still evaluating how holiday shopping sales are going. The reports vary from store to store, but one thing everyone seems to agree on is that sales of electronic items are brisk.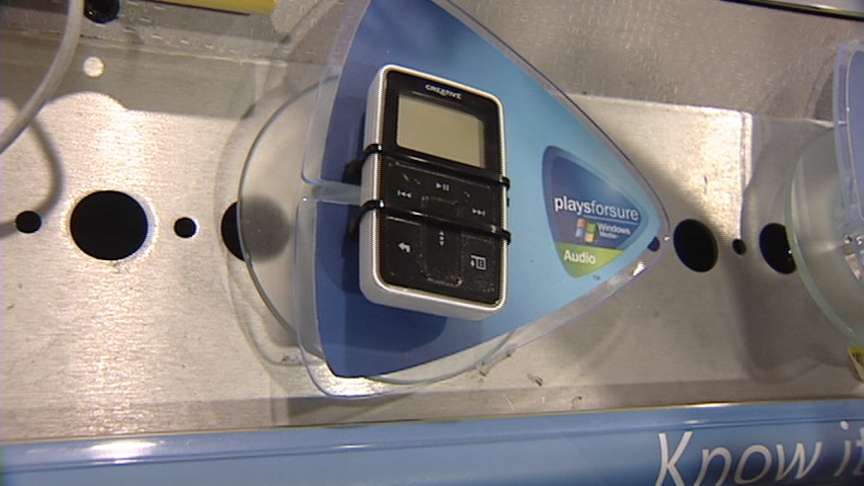 The most popular gifts are the big ticket electronic gadgets, and the stores were hopping today. If you're looking for a wide screen TV, cell phone, satellite radio, DVD, fax machine, stereo tuner, blank discs, or a laptop, you'd better get going because the stores are packed with other people wanting the same items.
At the Apple Store at The Gateway, it's iPod, iPod, iPod, whether it's the new tiny Nano or the Video version that'll store 15-thousand songs and 25-thousand photos, they're hot!
Jennifer Barney, Manager, The Apple Store: "Flying [off the shelves], flying. We tell everyone, shop early so you can get one!"
Apple also has a new PC called the I-Mac G-5, which is just out and selling well. But iPod is king, and even tiny iPod's, called the "Shuffle", are in demand.
Jennifer Barney: "And this is something we often recommend for parents who don't want to spend a lot of money, but they want to get their children an iPod. It's great for kids 12 and under."
The Best Buy store in South Salt Lake was hopping as well today. iPods and other MP3 players are selling well there too, but the hot item there is the X-BOX 360. Actually, the only one left is the display model. The first allotment sold out in 15-minutes a few weeks ago, but more are on the way.
Jason Pontius, Best Buy Media Supervisor: "I know I definitely have some on the 18th. Those are guaranteed in our Best Buy ads to have the minimum quantities, plus a few more."
That's right, this Sunday morning at 8 o'clock more XBOX's are coming.
Digital cameras, still and vide, are still a mainstay on people's holiday gift lists. And the flat screen TV's are coming down in price too; the 42-inch screen is the most popular size.
Jason Pontius: "With the flat panels having the ability to mount these in smaller spaces, unlike the old tube TV's, space isn't an issue anymore. The weight of these have come down, and you can put these anywhere, the versatility of them is awesome."
Back to those financial experts, they say sales from electronic items likes these will be up more than 9 percent over last year. Nationally, Best Buy stores say they're up 14 percent, so we know what Santa will be carrying in his sleigh!
×
Most recent Utah stories