Estimated read time: 3-4 minutes
This archived news story is available only for your personal, non-commercial use. Information in the story may be outdated or superseded by additional information. Reading or replaying the story in its archived form does not constitute a republication of the story.
PROVO - BYU hoops point guard Jimmer Fredette's star is shining brightly across the country, after his 47-point outburst in the win over rival Utah at the Huntsman Center Tuesday night.
---
Jimmer Fredette of BYU is a serious candidate to win national player of the year honors.
–- Andy Katz, ESPN
---
Wednesday, numerous websites -- including ESPN.com, CBSSports.com, FoxSports.com and Slam Online -- featured columns on the outing.
Fredette had 32 points at half, including a 40-foot buzzer beater. He was 16 of 28 from field, was 6 of 9 from behind the arc, and was 9 for 9 from the charity strip.
He was named Wednesday as a finalist for the 2011 Bob Cousy Award, recognizing college basketball's top point guard.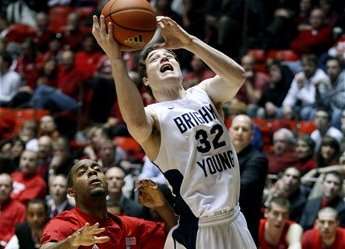 "Jimmer Fredette of BYU is a serious candidate to win national player of the year honors," ESPN's Andy Katz said in a video blog late Tuesday. "BYU now looks like a serious contender - kind of like Stephen Curry and Davidson back in '08 - as a team that can go deep into the NCAA Tournament and maybe get to Houston. Fredette can do that much for BYU and carry them in some big games."
CBS Sports writer Matt Jones gushed about Fredette in his Wednesday post.
"I have already expressed my Rick Majerus-sized man-crush on Jimmer Fredette," Jones wrote. "I am not sure that people are truly getting the message."
Facebook User Comment

"I'm a die hard Utes fan.... That being said, jimmer is a stud. You cant help but respect his mad skills. I still think he's under rated. Hopefully he takes the coug's deep into the tourny, to cement his spot among the the greatest players of all time in the state." -- Sean Van Noy
Comment on Facebook
Jones wrote, "You as a college basketball fan must go the extra mile to watch Jimmer play."
He continued: "Because I want you to get the same joy out of Jimmer that I do and chances are that unless you live in Utah or have no spouse/kids/girlfriend prospect/library card, you haven't made the time to do it yet. So please take this as a warning. Watch a Jimmer game ASAP."
Fox Sports' Jeff Goodman now places Fredette fourth in his player of the year rankings.
---
You as a college basketball fan must go the extra mile to watch Jimmer play.
–- Matt Jones, CBS Sports
---
Fredette was a trending topic on The Sporting News' college basketball page.
Slam Online writer David Cassilo wrote, "On Tuesday night, there might not have been a team in the country that could have stopped Fredette." He also suggested Fredette's performance may thrust him to the top of the player of the year race.
Shortly after the game, Fredette was already on a phone interview with ESPN's Scott Van Pelt.
"It's a special feeling, it really is," Fredette told ESPN.
Van Pelt razzed Fredette about missing a dunk. A headline on FoxSports.com pointed out the miss kept Fredette from tying his career high of 49, set against Arizona last year in Tucson.
"I dunked it a couple times this year, so let's get that straight," Fredette laughed in the ESPN interview.
The media circuit continued for Fredette later Wednesday. Fredette was a guest on the The Dan Patrick Show.
Steve Young also gave pause to Fredette during a Q & A on ESPN Wednesday about the NFL.
The sports media aren't the only ones who can't get enough of Jimmer. BYU students and fans say Jimmer is possibly the best thing to ever happen to BYU basketball.
"I thought it was amazing," said BYU student Mark Harris. "Especially that last shot in the first half by Jimmer, that was incredible."
Fredette's unforgettable game was a distraction at many offices too, giving Cougar fans an opportunity to rub it in to their rivals.
"I happened to be playing the highlights of the game," said Cougar fan Kimball Kjar. "As the two Utah fans were walking in, it was sheer coincidence they were walking in the office when those were playing."
Fans like Justen Nadauld say what Jimmer pulled off is nearly impossible. "I can't believe it. A, it's a rival game. B, it's at their place and they know he's the guy and they still can't stop him."
Story compiled with contributions from Sam Penrod and Andrew Adams.
×
Related stories