Estimated read time: 2-3 minutes
This archived news story is available only for your personal, non-commercial use. Information in the story may be outdated or superseded by additional information. Reading or replaying the story in its archived form does not constitute a republication of the story.
John Hollenhorst reportingWith Christmas less than three weeks away, are you seeing red?
We're talking red flowers, here.
They are everywhere. But did you ever wonder how they happen to be bright-red at just the right time of year?
We dropped in on Utah's biggest red-flower producer, located in Newcastle, west of Cedar City.
You say 'poinsett-uh' and I say 'poinsett-ee-uh'. Let's call the whole thing.... a tossup. Even two guys who are experts use differing pronunciations.
Scott Miller, President, Milgro Nursery: "We want to keep poinsett-uhs as fresh as we can possibly keep them."
Neil Watson, Production Manager, Milgro Nursery: "In the beginning stages of the poinsett-ee-uh, we keep the lights on it in the middle of the night."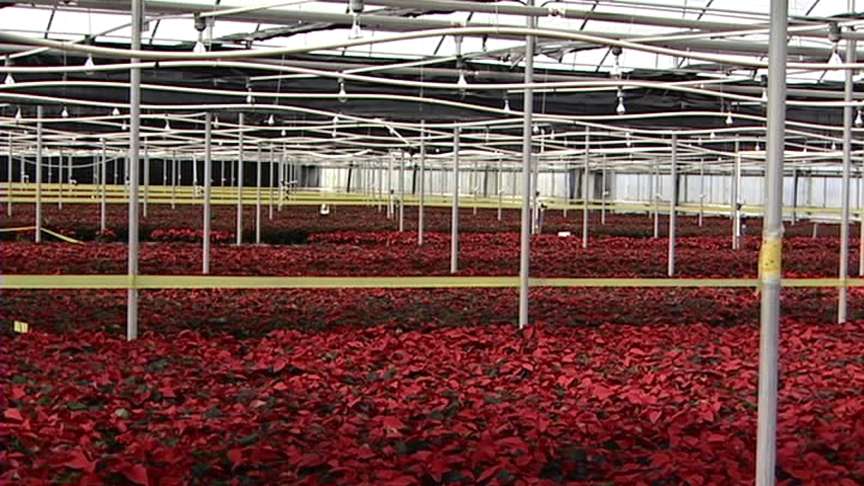 That's what they do agree on; how to use light and dark to fake out the flowers and make them look nice in time for Christmas shoppers.
Scott Miller, President, Milgro Nursery: "Yeah it's gotta have nice show on it. And it's gotta have some impact so the customer looks at it and says 'that's what I'm lookin for, that's what I want'. "
The 'poinsett-ee-uh' became everybody's favorite Christmas flower because of a Mexican legend that it blooms spectacularly on Christmas Day.
But the Milgro greenhouses are a few climate zones removed from Mexico. Christmas color must arrive early. The plants have to look great in stores weeks before Christmas.
So giant black curtains, and lights that go on and off, orchestrate the poinsettia's growing cycle.
Scott Miller, President, Milgro Nursery: "So if we want it to bloom a little earlier than it would naturally, we give it more darkness, less daylight. An artificial night-time environment." (Reporter question: "An early winter?") "An early winter, exactly."
Neil Watson, Production Manager, Milgro Nursery: "The plant recognizes through chemical responses in it that the light length has changed."
If everything works out perfectly, each plant leaves the warehouse, tricked into believing it's Christmas day in Mexico."
If you think this place is only about Christmas, think again. There's seasonal trickery on Chrysanthemums for Valentines Day, and lilies are spending a little time in the cooler.
Neil Watson, Production Manager, Milgro Nursery: "So we have fooled them into winter. And we will bring them out, and they'll be all ready to push for Easter."
Improving on Mother Nature, for the seasons of shopping.
Milgro Nursery is noteworthy in another respect. To heat the huge greenhouses, they use geo-thermal energy, drawing naturally hot water from deep underground. It saves hundreds of thousands of dollars a year.
×
Most recent Utah stories