Estimated read time: 2-3 minutes
This archived news story is available only for your personal, non-commercial use. Information in the story may be outdated or superseded by additional information. Reading or replaying the story in its archived form does not constitute a republication of the story.
Brooke Walker Reporting Police have still not released the identity of two adults and one child who died in a car crash yesterday on Highway 6. The accident just east of Soldier Summit added to a sharp spike in fatalities that has authorities once again taking a look at that stretch of road.
Yesterday's crash certainly was not a first. SR six averages eight fatalities per year. Because of that, UDOT has spent more than 100-million dollars trying to increase the safety of the road. They thought things were improving, until this year.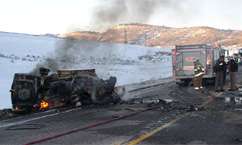 Highway 6 is a road with a lot of curves, twists and turns. Unfortunately, it's also a road with a lot of accidents.
Justin Cloward, Utah Highway Patrol: "I don't believe the canyon is a dangerous place. I believe the people that drive it need to slow down, not be in a hurry."
It's advice that possibly could have come in handy yesterday. Around 4:00 p.m., two adults and a child died on a stretch of road near Soldier Summit, when the SUV they were driving drifted across the center lane and slammed into an oncoming pickup truck. The vehicle burst into flames, killing all three individuals inside. Occupants of the truck had only minor injuries.
This accident contributed to a troubling trend. Since 1997, when the Highway 6 safety improvement efforts began, the number of fatalities has been on the way down, dropping as low as five in 2004. But this year it a peaked with thirteen deaths and nearly a month of winter driving still ahead.
While those numbers are high, calling US 6 the deadliest road in Utah is not accurate.
Nile Easton, UDOT: "That only represents 5% of the total fatals we see every year. I-15 is where most fatals happen. We've already had more than 70 fatals on I-15, so fatals happen everywhere, they don't just happen on Highway 6."
Still, UDOT spokesperson Nile Easton calls this unexplainable jump alarming.
Nile Easton, UDOT: "Sometimes it is just bad luck, unfortunately those things happen, but we still are going to be looking and investing more money into the road to make it safer."
Next year UDOT will add a passing lane and also speed sensors, efforts they hope will help those numbers to go back down.
×
Most recent Utah stories